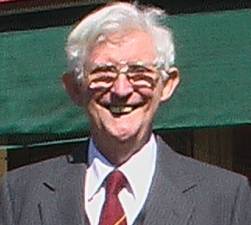 178471

total views of outputs

32666

total downloads of outputs

16

views of outputs this month

12

downloads of outputs this month
Biography
His career has taken him from a Major Open Scholarship at Cambridge University, through Cambridge Bachelor and Master of Arts degrees, through a Cambridge PhD Research Scholarship in the company of Stephen Hawking.
After eight years as a Fellow of Sydney Sussex College, he moved to a Readership and then a Chair at what is now the University of Portsmouth, leading many researchers in Robotics. In 1992 he moved to a Chair at the University of Southern Queensland, leading a group applying mechatronics to agricultural tasks, with an emphasis on machine vision.
Now in his eighties, he regards teaching and researcch more as a life-preserving hobby than a chore.
Employment
| Position | Organisation | From | To |
| --- | --- | --- | --- |
| Professor of Mechatronic Engineering. | University of Southern Queensland | 1992 | |
Fields of Research
400705. Control engineering
400706. Field robotics
400711. Simulation, modelling, and programming of mechatronics systems
Professional Membership
| Professional Membership | Year |
| --- | --- |
| Fellow, Institution of Engineering Technology to 2022, Chartered Engineer | |
| Fellow, Engineers Australia to 2010, CPeng. | |
| Senior Member, IEEE, now Life Member. | |
Current Supervisions
| Research Title | Supervisor Type | Level of Study | Commenced |
| --- | --- | --- | --- |
| Development of an End Effector System for Harvesting of Pineapples | Principal Supervisor | Masters | 2022 |
| To Determine Appropriate Control System Solutions to Compensate for Temperature Induced Variations on Spectroscopic Analysis of Milk Proteins | Principal Supervisor | Doctoral | 2019 |
Completed Supervisions
| Research Title | Supervisor Type | Level of Study | Completed |
| --- | --- | --- | --- |
| Study of Spring Total Non-Structural Carbohydrates influence on Pecan yields. | Principal Supervisor | Doctoral | 2022 |
| Automatic disparity search range estimation in deep learning stereo | Associate Supervisor | Doctoral | 2021 |
| Control of cranes with a swinging load, an investigation of pragmatic control | Principal Supervisor | Doctoral | 2020 |
| Adjustable dynamic range for PAPR reduction schemes in large-scale MIMO-OFDM systems | Principal Supervisor | Doctoral | 2017 |
| Investigating potential of metal mesh to contain wildfires | Associate Supervisor | Doctoral | 2016 |
| Error-resilient multi-view video plus depth based 3-D video coding | Associate Supervisor | Doctoral | 2016 |
| Date | Name | Awarding organisation | Underpinning research |
| --- | --- | --- | --- |
| 2006 | IEE Achievement Medal | Institution of Engineering Technology | |