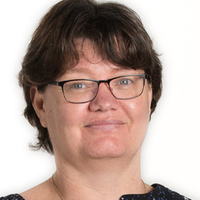 17290

total views of outputs

697

total downloads of outputs

41

views of outputs this month

1

downloads of outputs this month
Biography
Dr Sharon Bickle's research interests focus upon women's writing (particularly poetry, verse drama and life-writings) and the construction of subjectivity in nineteenth-century literature. Her most influential publication is The Fowl and the Pussycat: Love Letters of Michael Field (1876-1909) which contains the annotated love letters of two late-Victorian women who wrote collaboratively under the pseudonym "Michael Field." She is currently working on a new book project, a co-authored biography of Michael Field as well as journal articles on Young Adult Literature and on Oscar Wilde, as well as contributing to the digital humanities project, The Diaries of Michael Field.
Sharon is a past Vice President of AWGSA (Australian Women's and Gender Studies Association) and serves as consulting editor for The Latchkey: a Journal of New Woman Literature, as well as being on the editorial board of Hecate and Australian Women's Book Review.
Employment
| Position | Organisation | From | To |
| --- | --- | --- | --- |
| Lecturer, English Literature | University of Southern Queensland | 2014 | |
| Undergraduate Program Director | University of Southern Queensland | 2021 | |
Expertise
Late-Victorian Literature, Women's Writing, Victorian poetry, Michael Field, NeoVictorian and Steampunk fiction, Young Adult Literature, Feminist and Queer theory.
Teaching
ENL1000 Introduction to Literature
ENL2006 Literature for Young Adults
ENL2010 Fantastic Fiction: From the Gothic to Speculative Literature
Fields of Research
440501. Feminist and queer theory
440503. Feminist theory
440509. Women's studies (incl. girls' studies)
440599. Gender studies not elsewhere classified
470208. Culture, representation and identity
470214. Screen and media culture
470299. Cultural studies not elsewhere classified
470503. Book history
470504. British and Irish literature
470508. Digital literature
470531. Young adult literature
470599. Literary studies not elsewhere classified
Professional Membership
| Professional Membership | Year |
| --- | --- |
| Australian Women's and Gender Studies Association (AWGSA) | |
| Australasian Victorian Studies Association (AVSA) | |
Supervision Interests
Feminism and Gender Studies, Women's writing, Victorian Literature, Victorian period, poetry, young adult literature, steampunk.
Current Supervisions
| Research Title | Supervisor Type | Level of Study | Commenced |
| --- | --- | --- | --- |
| Self in the Making: Virginia Woolf's Plastic Subjects | Principal Supervisor | Doctoral | 2023 |
| The Governors' Wives Queensland 1859 to 1901 | Associate Supervisor | Doctoral | 2023 |
| An Ideological Analysis of Addison | Associate Supervisor | Doctoral | 2023 |
| The LIfe, Loves and Exploits of Ellen Quinn Kelly (1832 - 1923) | Associate Supervisor | Doctoral | 2022 |
| The Pony Book 'Heroine' in Children's Equine Fiction 1930 to 1990: A Critical Discourse Analysis | Associate Supervisor | Doctoral | 2022 |
| An Ideological Analysis of Addison | Associate Supervisor | Doctoral | 2023 |
| SELF IN THE MAKING: VIRGINIA WOOLF'S PLASTIC SUBJECTS | Principal Supervisor | Doctoral | 2023 |
| Effects of the Scottish Highland Clearances on migrant dispersion in Australia in the 18th and 19th Century, and what this means for cultural diversity in contemporary society | Associate Supervisor | Masters | 2023 |
| The Governors¿ Wives ¿ Queensland ¿ 1859 to 1901 | Associate Supervisor | Doctoral | 2023 |
| THE LIFE, LOVES AND EXPLOITS OF ELLEN QUINN KELLY (1832 ¿ 1923) | Associate Supervisor | Doctoral | 2022 |
| The Pony Book 'Heroine' in Children's Equine Fiction 1930 to 1990: A Critical Discourse Analysis | Associate Supervisor | Doctoral | 2022 |
Completed Supervisions
| Research Title | Supervisor Type | Level of Study | Completed |
| --- | --- | --- | --- |
| Re-Forming Faith: Idolatry and the Victorian Novel | Principal | Doctoral | 2020 |
| Re-forming faith: Idolatry in the Victorian novel | Principal Supervisor | Doctoral | 2019 |