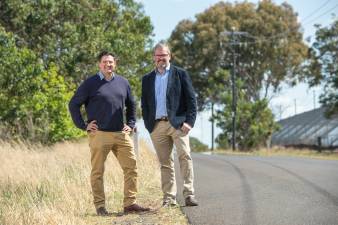 1576

total views of outputs

405

total downloads of outputs

2

views of outputs this month

0

downloads of outputs this month
Biography
I currently lead a five way research and translation partnership, with four Universities and the Queensland government, looking at rural and regional economies. How they can adapt and sustain into the future via innovation, leadership, and entrepreneurship. We do this through economic analysis and in depth, place-based research, delivered by some of Queensland's most experienced resource and policy economists.
I have worked extensively in Asia for the past 20 years, specifically in the agribusiness, textiles, research and education management sectors. And was fortunate to work across Asia and Europe for some of the world's leading brands including Dulwich College International (K-12 education), The Financial Times/Pearson Group (UK), The Woolmark Company/AWI, the Australian Wool Exchange and the University of Queensland.
With these companies I developed multidisciplinary expertise in business development, marketing and investment due diligence including perishable freight routes, green- and brownfield education projects, market access strategies, eCommerce and traditional bricks-and-mortar value chains into Asia.
After almost 18 years in China I returned to take up a role as the CEO at Toowoomba and Surat Basin Enterprise and Food Leaders Australia - a leading, membership-based regional economic development agency, and during my tenure saw the region receive a weekly freight route to Hong Kong with Cathay Pacific, a new Ag Tech investment forum in 400M, the first passenger flight from a regional airport to Shanghai, China; as well a number of project engagements within the Surat Basin.
Highly experienced in the international agribusiness R & D investment sector I co-founded and chair www.fsco.io, a financial technology company that works in the "messy middle" between agri-food value chains and their funders with MasterCard Global and Hedera.
I am fluent in Mandarin and have a PhD in agricultural economics from The University of Queensland. Chinese literature, Chinese economic history graduate and research degrees from Xi'an Foreign Language Institute, Nanjing University and Beijing University of International Business and Economics (UIBE).
Fields of Research
300208. Farm management, rural management and agribusiness
300806. Post harvest horticultural technologies (incl. transportation and storage)
Current Supervisions
| Research Title | Supervisor Type | Level of Study | Commenced |
| --- | --- | --- | --- |
| How do people in agricultural communities perceive the extent and effects of corporate farming in their regions | Principal Supervisor | Doctoral | 2023 |
| Leadership in rural communities | Associate Supervisor | Doctoral | 2020 |
| An investigation into Australian Vegetable Value Chain: Enhancing adoption of innovative practices | Principal Supervisor | Doctoral | 2018 |
| Project title | Details | Year |
| --- | --- | --- |
| Regional Drought Resilience Planning | The Regional Drought Resilience Planning Program is an initiative jointly funded through the Australian Government's Future Drought Fund and the Queensland Government. The Queensland Department of Agriculture and Fisheries (DAF) has partnered with the Rural Economies Centre of Excellence (RECoE) with the purpose to have an impact on how regions can survive and thrive into the future. | 2021 |
| Drought Resilience Leaders Development Program - ARLF | The Drought Resilience Leaders Development program brought people from one region together to practice and grow leadership skills that help build personal, community, and network resilience. During the program, participants were asked reflect on their progress, including the development of intangible skills such as self-confidence, presenting to others, and storytelling. The evaluation framework also assessed leadership skills of critical thinking, collaboration, diverse stakeholder management, mobilising talent and staff, communication, conflict management, complexity, ethical leadership, working with diverse stakeholders, and working with other leaders. Each participant brought their own life and leadership experience to the program. For some, the program built on those prior leadership skills, while for others, it was their first time exploring leadership development. After the program, community extension grants supported participants with applying their skills with projects that build resilience in their communities. | 2021 |
| Maximising the value of the energy transition for rural and regional Queensland | This research project maps the emerging energy landscape in regional Australia, identifying implications and opportunities for agribusiness, irrigation and other primary industries. The study also examines the economic, social and ecological impacts of large-scale energy and renewables projects through the comparative analysis of a number of projects within Australia. Outputs include a decision making support tool for local government and best practice guidelines for development of new energy infrastructure which maximise benefits for rural communities supported by rigorous academic . | 2020 |
| Supply Chains of the Sheep and Goat Meat Industry | The purpose of this report is to identify and map the supply chain models that exist in the Qld Sheep and goat meat industry. This will provide a base to develop information and feedback to government and industry to address identified problems and prospects. The underlying aim of this research and subsequent policy advice is to help producers within the industry increase their financial returns and contribute to economic growth in sheep and goat producing communities. To map and classify the supply chain, interviews were conducted with a number of intermediaries. This allowed the structure of sheep and goat meat supply chains to be assessed in the context of networks, key attributes and critical linkage points. The questions were centred around mapping the supply chain structure and processes. The supply chain questions were conducted using different thematic foci on where value is added, key aspects of the links that make them flexible or rigid, and limitations or opportunities in the supply chain. | 2020 |
| Improving adoption of temperature monitoring technologies in the vegetable value chains: Case study of South East Queensland | | 2020 |
| Quilpie WellSpring: a circular economy concept for remote and arid regions | Using a best practice approach to sustainable development and circular economy principles, Quilpie Wellspring provides a vision for new micro enterprises clustered on a 3.9 ha site in the heart of Quilpie. The mixed-use precinct is planned as a five-stage project with stage one being three new enterprises providing solar distilled water from the Great Artesian Basin, local craft beer and fresh aquaponics produce of local fish and vegetables with supporting arid food forest, ecological lagoon and public open space. | 2019 |
| Creating a regional innovation ecosystem: the Goondiwindi case study | A community consultation identified an opportunity to establish a Centre for Agricultural Excellence to capitalise on the innovation generated in the region and the rapid advances in technology that is changing the face of agricultural production systems. | 2019 |
| Date | Name | Awarding organisation | Underpinning research |
| --- | --- | --- | --- |
| 2022 | Networks to Build Drought Resilience Program Advisory Committee | FRRR | |