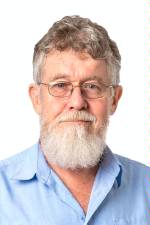 10872

total views of outputs

1359

total downloads of outputs

316

views of outputs this month

31

downloads of outputs this month
Biography
I was born in Broome, WA and went to school in Perth, the Cocos Keeling Islands, Kalgoorlie and Port Moresby, in Papua New Guinea. My undergraduate degree was in Biology and in my Honours degree I majored in ecology and physiology. I did my MPhil part-time while firstly working as a Technical Officer then as a Research Officer in the WA Department of Agriculture where I explored the influence of nutrition on testicular growth in Merino rams. These three degrees were through Murdoch University in WA, then I did my PhD at UWA looking at interactions between nutrition, genotype and wool quality in two different strains of Merinos. In 1995 I was employed by the University of Queensland on a nine month appointment to teach animal production, and stayed there for over 25 years during which time I initiated, coordinated and taught several courses in the Wildlife Biology major, then Wildlife Science degree; plus, other courses in animal science and natural resource management.
In 2020 I joined UniSQ and have since developed and teach into majors in Wildlife Management in the Diploma of Science, the Bachelor of Science and the Bachelor of Environmental Science, and have continued to supervise a wide range of Honours, Masters and PhD students.
On my journey I have worked in a cordial factory, picked grapes and processed a lot of faeces as well as becoming an animal scientist who has worked with sheep, goats and a wide range of wild life!
I enjoy learning and teaching and undertaking research on animals particularly the ecology and behaviour of wild animals – which includes pest animals, and wildlife managed sustainably i.e. for conservation and utilisation. I also enjoy travel and have taken students overseas for them to learn about themselves, and natural resource management in Africa and South America.
Employment
| Position | Organisation | From | To |
| --- | --- | --- | --- |
| Associate Professor (Wildlife Management) | School of Agriculture and Environmental Science | 2022 | 2023 |
| Associate Professor (Wildlife Management) | School of Sciences | 2020 | 2021 |
| Associate Professor | The University of Queensland | 2010 | 2020 |
| Senior Lecturer | The University of Queensland | 2000 | 2009 |
| Lecturer | The University of Queensland | 1995 | 1999 |
Expertise
Wildlife management, ecology, game, ruminant nutrition, reproduction, goats, sheep, deer
Teaching
WLF2101 Management of Wildlife
WLF2201 Vertebrate Pests and Biosecurity
WLF3101 Principles of Wildlife Management and sustainable use (in 2024)
Fields of Research
300303. Animal nutrition
300305. Animal reproduction and breeding
310307. Population ecology
310901. Animal behaviour
410407. Wildlife and habitat management
Professional Membership
| Professional Membership | Year |
| --- | --- |
| International Goat Association, Australian Society of the Study of Animal Behaviour, Australian Institute of Biologists, Nutrition Society of Australia, Australian Society of Animal Production | |
Supervision Interests
Wildlife Management, wildlife ecology, goats, deer,
Current Supervisions
| Research Title | Supervisor Type | Level of Study | Commenced |
| --- | --- | --- | --- |
| | Principal Supervisor | | |
| Seed dispersal and seedling emergence from faeces of native Swamp wallaby (Wallabia bicolor), Eastern grey kangaroo (Macropus giganteus), and non-native Rusa deer (Cervus timorensis) herbivore species living in a peri-urban area of SE Queensland | Principal Supervisor | Masters | 2023 |
| Utilising gateway automation to provide permeable safe havens and resource supplementation for native wildlife | Principal Supervisor | Doctoral | 2023 |
| Impacts of grazing, fire and invasive species on the squatter pigeon (Geophaps scripta) in the Galilee Basin | Associate Supervisor | Masters | 2023 |
| Effects of grazing, fire and invasive species on yakka skink. | Associate Supervisor | Doctoral | 2021 |
| Efficacy of novel wildlife monitoring technologies and methods compared with traditional raptor survey techniques in Australia | Principal Supervisor | Doctoral | 2021 |