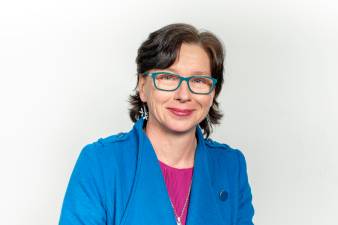 4424

total views of outputs

1264

total downloads of outputs

111

views of outputs this month

26

downloads of outputs this month
Biography
I am an exercise physiologist and an osteopath, as well as an academic. I am simultaneously a clinician and a scientist. I am passionate about clinical reasoning skills, evidence-based practice, the quality of clinical decision-making, and the professional growth of clinicians from students to novice practitioners, and then across their practicing lives. I have a clinical skill set that includes both manual therapy and exercise, with an expanded my scope of practice to include working with therapy animals. My career focus has been on drawing these threads together to contribute as best I can to the development of clinicians as individuals, and the growth of my clinical professions. Skovholt and Ronnestad's model of therapist development (1992) serves as a helpful model providing focus to my work, giving me with a framework to contribute meaningfully to clinicians' development - including my own - at all professional stages. All of my teaching is focused on the growth and development of clinicians, fostering their clinical skills and decision-making, providing them with the highest quality clinical practicum experiences, and assessing students in meaningful ways that allow them to demonstrate their growth as clinicians. My research centres around using scientific evidence to inform clinical decision-making through pragmatic clinical intervention studies, systematic reviews, and the development of evidence-based clinical guidelines and textbooks for novice clinicians as well as those seeking an expanded scope of practice.
Employment
| Position | Organisation | From | To |
| --- | --- | --- | --- |
| Associate Professor - Clinical Exercise Physiology | University of Southern Queensland | 2017 | |
| University of the Sunshine Coast | Associate Professor - Exercise Physiology | 2012 | 2017 |
| Associate Professor - Exercise Physiology | Australian Catholic University | 2009 | 2012 |
| Senior Lecturer / Lecturer (A/B) | Victoria University | 1996 | 2009 |
Expertise
Clinician development
Clinical decision-making
Exercise as medicine
Rheumatology
Animal-assisted therapies
Teaching
I have teaching, moderation, assessment, and curriculum development involvement in the following courses in the Bachelor of Sport and Exercise Science (Honours) - Clinical Exercise Physiology program (BSEH).
SES3202: Clinical Practice Skills 1
SES4102: Clinical Practice Skills 2
SES4203: Clinical Practice Skills 3
SES3130: Clinical Exercise Physiology for Youth
SES3231: Clinical Exercise Physiology for Adults
SES4101: Clinical Exercise Physiology for Older Adults
SES4199: Clinical Placement 1
SES4299: Clinical Placement 2
Fields of Research
420199. Allied health and rehabilitation science not elsewhere classified
420702. Exercise physiology
Professional Membership
| Professional Membership | Year |
| --- | --- |
| Accredited exercise physiologist and Fellow of Exercise and Sport Science Australia | |
| Non-medical member of the Australian Rheumatology Association | |
| Member of Animal Therapies Ltd | |
| Registered osteopath: Australian Health Practitioner Regulation Agency | |
Current Supervisions
| Research Title | Supervisor Type | Level of Study | Commenced |
| --- | --- | --- | --- |
| Low back pain and related disability in Pakistan: Application of a biopsychosocial approach | Principal Supervisor | Doctoral | 2022 |
| Physical activity and healthy lifestyle among youth in the Darling Downs | Associate Supervisor | Doctoral | 2021 |
Completed Supervisions
| Research Title | Supervisor Type | Level of Study | Completed |
| --- | --- | --- | --- |
| Exercise for people with Systemic Lupus Erythematosus or Systemic Sclerosis | Principal Supervisor | Doctoral | 2023 |
| Project title | Details | Year |
| --- | --- | --- |
| Queensland Government and Health and Wellbeing Queensland ActiveKit Round 2. | Dennehy J, Cameron M, March S, Kolbe-Alexander T. Up Your Game. Program Evaluation, $94,800. | 2022 |
| UniSQ Research Capacity Building Grant. | Denham J, Cameron M, Brownlow C, Gray M. The influence of individualised strength and conditioning versus games-based training on health-related fitness in youth with intellectual disability. $12,942. | 2022 |
| Research Infrastructure Program: University of Southern Queensland. | Mills D, Howe P, Biddle S, Brown L, Cameron M, Hoffman B, McLellan C, Panchal S, Ralph N, Seiler L, Wong R. Infrastructure funding for the purchase of research equipment, including a DEXA scanner. $132,362. | 2018 |
| Health Workforce Australia. Clinical Training Fund | Funding to build and establish the McAuley Clinic (mutlidisciplinary on-campus teaching clinic) for the Australian Catholic University, Banyo campus. $4,634,933 | 2010 |
| Date | Name | Awarding organisation | Underpinning research |
| --- | --- | --- | --- |
| 2016 | Top 25 Influencers | Exercise and Sport Science Australia | Clinical exercise: a case-based approach |
| 2012 | National Clinical Supervision Fellowship: $25,000 to fund research into clinical supervision. | Health Workforce Australia. | |