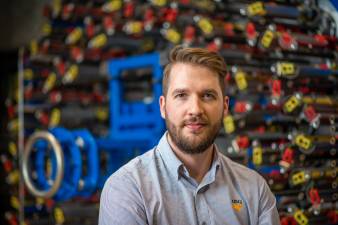 1551

total views of outputs

336

total downloads of outputs

16

views of outputs this month

1

downloads of outputs this month
Biography
DrShelley is a specialist in advanced composites manufacturing technologies and targeted sustainable manufacturing methodologies. He also assists in the strategic direction of industry focused R&D programs inc. bid development and project management. Over the past 5 years, has successfully won a portfolio of ~$65M worth of grant and contracts, with $58M awarded within the last 18 months. The greatest success has been the iLAuNCH Hub, in which he is the Interim CTO, with $50M awarded for the iLAuNCH Hub to support manufacturing companies in the space sector to accelerate, build a complementary supply chain and overcome commercialisation challenges.
Dr Shelley has been a member of the Centre for Future Materials at UniSQ since October 2019, joining from the AMRC (The University of Sheffield). Dr Shelley has extensive experience leading and partaking in industrial collaborative grant funded programs for the delivery of industrially relevant technological solutions. Dr Shelley specialisation focuses on advanced manufacturing of composite materials, and accelerated processing techniques including bonding and joining of aerospace structures. Recently, as Co-Director of the NO WASTE Pilot Precinct & SIMPLE Hub his focus has also been directed toward design of products using problematic 'waste' materials. Areas of technical experience and knowledge range from numerical modelling, structural design, optimisation, and numerous composite manufacturing techniques.
Dr Shelley has worked extensively with industry partners inc.: Boeing Australia (Melbourne), Hypersonix Launch Systems (Brisbane), US Air Force Research Laboratory (Tokyo, Japan), Wagners CFT (Toowoomba), PARTEC Pty Ltd (Brisbane, Australia), Venlo Investments (Brisbane, Australia), Impacts Renewable Energy Pty Ltd (Brisbane, Australia), Rocket Technology International (Helidon, Australia), GKN Aerospace (Isle of Wight, UK), Dowty Propellers (Cheltenham, UK), Dassault Aviation (Paris, France), Boeing (Seattle, USA) and Airbus (Toulouse, France) among other through the iLAuNCH Hub; and has collaborated academically with the AMRC (Sheffield, UK), Deakin University (Geelong), Fraunhofer IGCV (Augsburg, Germany), NCC (Bristol, UK), and TPRC (Enschede, Netherlands).
Employment
| Position | Organisation | From | To |
| --- | --- | --- | --- |
| Senior Research Fellow | The University of Southern Queensland | 2022 | |
| Research Fellow | The University of Southern Queensland | 2019 | 2022 |
| Research Engineer | Advanced Manufacturing Research Centre, The University of Sheffield | 2016 | 2019 |
Fields of Research
400101. Aerospace materials
400102. Aerospace structures
400107. Satellite, space vehicle and missile design and testing
400505. Construction materials
401601. Ceramics
401602. Composite and hybrid materials
401609. Polymers and plastics
Current Supervisions
| Research Title | Supervisor Type | Level of Study | Commenced |
| --- | --- | --- | --- |
| Next generation joining techniques for primary and secondary aircraft structures. | Associate Supervisor | Doctoral | 2023 |
| Repurposing waste materials for cost-effective sucker rod guides | Associate Supervisor | Doctoral | 2023 |
| Through-Thickness Dielectric Sensing for Thermoset Composite Cure Analysis and Process Validation | Associate Supervisor | Doctoral | 2021 |
| Self-learning Process Modelling in Composites Manufacturing | Associate Supervisor | Doctoral | 2021 |
| Multifunctional Resin System for Next Generation Pultrusion | Associate Supervisor | Doctoral | 2021 |
Completed Supervisions
| Research Title | Supervisor Type | Level of Study | Completed |
| --- | --- | --- | --- |
| Effect of Fibre Distribution on Structural Behaviour of Pultruded Composite Profiles | Associate Supervisor | Doctoral | 2023 |
| Project title | Details | Year |
| --- | --- | --- |
| Sustainable Industry Manufacturing Planning for Long‑term Ecosystems (SIMPLE) Hub | | 2023 |
| Innovative Launch, Automation, Novel Materials, Communications, and Hypersonics (iLAuNCH) Hub | | 2022 |
| DART CMP Airframe: A composite reusable hypersonic platform | | 2022 |
| New Options for Waste And Saving The Environment (NO WASTE) Pilot Precinct | | 2021 |
| Self-learning Process Modelling in Composites Manufacturing | | 2020 |
| Dynamic In-Situ Control using Simulation, Sensor Networks and Applied Process Parameters for Fast Processing of Resin Infusion Laminates | | 2020 |