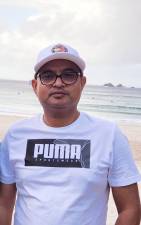 64035

total views of outputs

12353

total downloads of outputs

21

views of outputs this month

4

downloads of outputs this month
Biography
Dr Kabir is a Senior Lecturer (Statistics) and seminar coordinator in the School of Mathematics, Physics and Computing at the University of Southern Queensland (UniSQ). With extensive experience as a Statistician and Statistical Academic, including publishing research papers based on EEG signals, data sciences, cross-sectional and longitudinal data, and applying advanced statistical analysis techniques, he is highly skilled at delivering statistically sound analytical solutions. Dr Kabir experience included the provision of statistical advice to university academics and researchers from the research design stage through to data collection, analysis and interpretation and supervision of higher degree by research (HDR) students. With a strong understanding of a comprehensive range of data science techniques and practices, including statistical modelling and analysis, Dr Kabir has hands-on experience in solving real-world problems through his experience as Research Fellow with The University of Melbourne and University of New South Wales. Dr Kabir engages collaboratively with several high-profile international research groups. He has obtained a research grant of total AUD 5M of being a part of a large research team from NHMRC. Dr Kabir is an academic editor of Plos One (Q1, IF: 3.75) and associate editor of Frontiers in Public Health (IF: Q1 6.46).
Employment
| Position | Organisation | From | To |
| --- | --- | --- | --- |
| Senior Lecturer (Statistics) | University of Southern Queensland | 2015 | |
Expertise
Epidemiology and Biostatistics, Applied Statistics, Mixed Effects Model, Model Validation, Data Mining and Knowledge Discovery, Statistical Disclosure Control, Artificial Intelligence and Machine Learning.
Teaching
Data Analysis, Distribution Theory, Statistical Models, Statistical Inference
Fields of Research
420606. Social determinants of health
420699. Public health not elsewhere classified
460502. Data mining and knowledge discovery
460599. Data management and data science not elsewhere classified
490502. Biostatistics
Supervision Interests
Samsad Jahan (Victoria University)
Current Supervisions
| Research Title | Supervisor Type | Level of Study | Commenced |
| --- | --- | --- | --- |
| Evolutionary Algorithms for Efficient Privacy Budget Allocation of Differential Privacy | Associate Supervisor | Doctoral | 2023 |
| An Analysis of the `Coping Strategies¿ of Lower End Consumers in Pakistan | Associate Supervisor | Masters | 2023 |
| Impact of Medicare Policy Changes on the Access and Costs of Health Care Services in Australia. | Associate Supervisor | Doctoral | 2023 |
| The impact of prenatal maternal medication and dietary habits and parental alcohol consumption on childhood obesity and overweight risk in Australia | Principal Supervisor | Masters | 2023 |
| Innovative model for strong country brand equity through university brand equity: An improved branding approach for countries and their universities | Associate Supervisor | Doctoral | 2023 |
| Model-based cluster analysis of lifestyle factors and their association with childhood obesity in Australia | Principal Supervisor | Doctoral | 2023 |
| Prevalence and predictors of mental health care service utilization among Australian children and adolescents  | Principal Supervisor | Doctoral | 2022 |
| A Smart Predictive Analysis Model for Detecting Child Mental Illness in Australian Children and Adolescents: Identifying Influencing Determinants | Principal Supervisor | Doctoral | 2021 |
| An investigation into householders¿ motivation to prepare for cyclones in Oman | Principal Supervisor | Doctoral | 2020 |
| Impact of Online Marketing Activities on Consumers¿ Purchase Intentions in the Australian Retail Sector | Associate Supervisor | Doctoral | 2020 |
| Consequences of maintaining a long term acceptable weight: evidence from longitudinal study | Principal Supervisor | Masters | 2017 |
Completed Supervisions
| Research Title | Supervisor Type | Level of Study | Completed |
| --- | --- | --- | --- |
| THE ECONOMICS OF CHILD AND ADOLESCENT HEALTH IN AUSTRALIA | Associate Supervisor | Doctoral | 2023 |
| Environmental corporate social responsibility (ECSR) as a viable customer retention strategy | Associate Supervisor | Doctoral | 2023 |
| Understanding the determinants and socioeconomic inequality of behavioural and mental health problems, and services utilization among Australian adolescents | Associate Supervisor | Doctoral | 2021 |
| Investigating the effects of interactions of environmental factors on grain quality using statistical techniques | Associate Supervisor | Doctoral | 2021 |
| Evaluation of assessment of infrastructure construction project performance in Australia using a modified concept of earned value management | Associate Supervisor | Doctoral | 2019 |
| Statistical methodology for analyzing ordinal outcomes of traumatic brain injury | Associate Supervisor | Masters | 2017 |
| Assessing stakeholder's salience transition effects on social practices in the resources industry in the Surat Basin, Queensland- empirical analysis | Associate Supervisor | Doctoral | 2016 |
| Project title | Details | Year |
| --- | --- | --- |
| An AI-Aided Web Based System for Early Dementia Screening | | 2022 |
| Exploring association of poststroke fatigue with perceived stress | | 2021 |
| Translating evidence-based interventions into population-level digital models of care for child and adolescent mental health | | 2019 |
| Date | Name | Awarding organisation | Underpinning research |
| --- | --- | --- | --- |
| 2021 | Guest Editor | Health Information Science and Systems | |