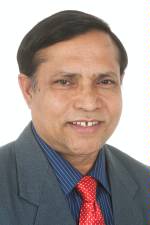 197846

total views of outputs

90893

total downloads of outputs

64

views of outputs this month

66

downloads of outputs this month
Biography
Dr Mohammad Mafizur Rahman (known as Mafiz Rahman) is an Associate Professor of Economics at the University of Southern Queensland (UniSQ), Australia. With vast academic qualifications in Economics like B.Sc. Honours, Graduate Diploma, M. Sc., M. Ec. and PhD, he taught various economics courses at undergraduate and postgraduate levels in three different universities in Australia and overseas. His research interest is in Applied Economics focusing on Environmental Economics, Development Economics, Health Economics, and International Economics. Dr Rahman has remarkable publication records totaling 180 including 135 journal papers, 39 conference papers, 1 scholarly book, 1 book chapter and 4 reports. He has published a significant number of research papers in Q1/ A-ranked journals with high impact factor and his Google scholar citations are 4749, h-index is 32 and i10-index is 74. His research outputs got media attention, and he won the first prize in university (USQ) wide Journal Publication Excellence Awards (PEAs) competitions in both 2016 and 2017. He also achieved the School-specific PEAs in 2016, 2017, 2018, 2019 and 2020 with the 1st position in 2017, 2018 and 2019. Dr Rahman is a competitive grant winner of around $500,000 as Principal Investigator, successful supervisor who supervised post-doctoral research fellow and many doctoral students to completion. He is an editorial team member of five academic journals in the field of economics and business and reviewed many journal papers and PhD theses. Dr Rahman successfully played several managerial and administrative roles at UniSQ including Program Coordinator in Business Economics major, Associate Academic Performance Supervisor for several staff and Faculty Board member. He is an expert media commentator who very often provides expert interviews with TV and radio on various socio-economic issues.
Employment
| Position | Organisation | From | To |
| --- | --- | --- | --- |
| Associate Professor | University of Southern Queensland, Australia | 2006 | 2023 |
Expertise
Environmental Economics, Energy Economics, Applied Health Economics, Development Economics, International Trade and Business
Fields of Research
350207. International finance
350799. Strategy, management and organisational behaviour not elsewhere classified
380105. Environment and resource economics
380108. Health economics
380110. International economics
380199. Applied economics not elsewhere classified
389999. Other economics not elsewhere classified
440407. Socio-economic development
440703. Economic development policy
Professional Membership
| Professional Membership | Year |
| --- | --- |
| Economic Society of Australia | |
Supervision Interests
Development Economics, Environmental Economics, Energy Economics, International Economics, Applied Economics.
Current Supervisions
| Research Title | Supervisor Type | Level of Study | Commenced |
| --- | --- | --- | --- |
| Stock Market Development and Environmental Quality: Australian Perspective | Principal Supervisor | Doctoral | 2023 |
| The Impact of Good Governance on Sustainable Development: Australia vs. Global Performance | Principal Supervisor | Doctoral | 2023 |
| The Economics of COVID-19 Pandemic: Assessing the Macroeconomic Impact | Associate Supervisor | Doctoral | 2021 |
| Role of CSR on British Columbias Small Business | Associate Supervisor | Doctoral | 2021 |
| Socioeconomic Inequalities in Health status and Health Behaviors in Children: Evidence from a Longitudinal study of Australian Children | Associate Supervisor | Doctoral | 2021 |
| Long term war in Afghanistan: Its impact on the economy, environment, and human resource development | Principal Supervisor | Doctoral | 2020 |
| The Informal Sector and Its Impact on Sustainable Development: An empirical study on urban perspective | Principal Supervisor | Doctoral | 2020 |
| Emergency Public Health Management Mechanism design: Game Theory Perspective | Principal Supervisor | Doctoral | 2020 |
| Australian Agricultural Exports: Perspective Exchange Rate, Trade Balance, and Environment | Principal Supervisor | Doctoral | 2019 |
| Evaluating the effectiveness of the Oman Tanfeedh program through the new strategic economic diversification business model | Principal Supervisor | Doctoral | 2017 |
Completed Supervisions
| Research Title | Supervisor Type | Level of Study | Completed |
| --- | --- | --- | --- |
| Emissions trading and sustainable development: A case study of Libyan oil and cement industries | Associate | Doctoral | 2012 |
| The Role of Islamic Finance in Reducing Financial Exclusion: An Exploratory Case Study of Muslims in Queensland, Australia | Principal | Masters | 2014 |
| Utilizing a marginal abatement cost curve approach to develop a low greenhouse gas plan: Case study of energy management in a rural region (Toowoomba-Australia) accounting for human behaviour | Principal | Doctoral | 2014 |
| Determinants and problems of access to finance by small and medium-size enterprises (SMEs) in Libya | Principal | Doctoral | 2014 |
| Offal and Beef demand in Indonesia and Australia's Trade Prospects (A Case Study for Makassar city) | Principal | Doctoral | 2015 |
| The Socio-Economic Effects of Digital Technologies on Australian Academics and Farmers | Associate | Doctoral | 2015 |
| The effects of tourism on 4e's (earnings, employment, energy consumption, and environment): an Australian perspective | Principal | Doctoral | 2023 |
| THE EFFECTS OF TOURISM ON 4E¿S (EARNINGS, EMPLOYMENT, ENERGY CONSUMPTION, AND ENVIRONMENT): AN AUSTRALIAN PERSPECTIVE | Principal Supervisor | Doctoral | 2023 |
| INEQUALITY IN MATERNAL AND CHILD HEALTH AND HEALTHCARE IN NIGERIA: AN ECONOMETRIC ANALYSIS | Associate Supervisor | Doctoral | 2022 |
| Impacts of Tourism Development on Economic Growth, Poverty Alleviation, and Environment: Evidence from Tanzania | Principal Supervisor | Doctoral | 2022 |
| Can integrated microfinance and health programs reduce poverty-driven healthcare costs: A case of the Philippines | Associate Supervisor | Masters | 2020 |
| Impact of microfinance on health, education and income of rural households: evidence from Bangladesh | Associate Supervisor | Doctoral | 2016 |