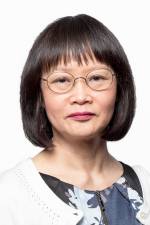 250073

total views of outputs

80126

total downloads of outputs

14

views of outputs this month

14

downloads of outputs this month
Biography
Prof Yan Li is a full Professor in Artificial Intelligence (AI) in Computer Science discipline, the Associate Head (Research) and the Chair of Research Committee in the School of Mathematics, Physics and Computing at the University of Southern Queensland (UniSQ), Australia.
Yan received her PhD degree from the Flinders University of South Australia, Australia. Her research interests lie in the areas of AI, Machine Learning, Big Data and Internet Technologies, Network Security, Signal/Image Processing and EEG Research, etc. She has published 250+ high quality publications, supervised dozens of PhD students to completion, and obtained more than $3.5 million research grants from Australia government, industry and through international collaborations.
Prof Yan Li is the leader of UniSQ AI Research and the recipient of many research and teaching excellence awards, including 2012 Australia prestigious National Learning and Teaching Citation Award, 2008 Queensland Government Smart State-Smart Women Award, 2009 UniSQ Teaching Excellence Award, 2009 UniSQ Research Excellence Award, 2015-2018 Research Publication Excellence Awards, and 2021 HES Faculty Research Excellence Award.
Yan has served as an elected academic leader in many high-level university committees, such as UniSQ Academic Board Executive Committee and UniSQ Research Committee etc. Prof Yan Li is a current member in Australian Research Council College of Experts.
Employment
| Position | Organisation | From | To |
| --- | --- | --- | --- |
| Professor | University of Southern Queensland | 2018 | |
Expertise
Artificial Intelligence, Machine Learning, Big Data and Internet Technologies, Network Security, Signal/Image Processing and EEG Research
Teaching
Machine Learning, Network Security
Fields of Research
400607. Signal processing
460306. Image processing
460501. Data engineering and data science
461103. Deep learning
461106. Semi- and unsupervised learning
Current Supervisions
| Research Title | Supervisor Type | Level of Study | Commenced |
| --- | --- | --- | --- |
| Investigate the methods for fast incremental learning of machine learning models for misuse and anomaly-based intrusion detection in the cyber-attack domain. | Associate Supervisor | Doctoral | 2023 |
| GRAPH NEURAL NETWORKS FOR CAUSALITY | Associate Supervisor | Doctoral | 2023 |
| Investigating the trade-offs between privacy, accuracy, and model performance in federated learning for privacy-sensitive domains | Principal Supervisor | Masters | 2023 |
| Depth of Anaesthesia Monitoring by machine learning techniques | Principal Supervisor | Doctoral | 2023 |
| Alzheimer's Disease Prediction based on Federated Learning | Principal Supervisor | Doctoral | 2023 |
| The Chance-setup on Data Mining Results | Principal Supervisor | Doctoral | 2022 |
| Developing Deep Learning Methods for Detection and Segmentation of Brain Tumor using 3D and 4D Images | Principal Supervisor | Doctoral | 2022 |
| Predicting erythemally-effective solar ultraviolet irradiation under attenuation factors and cloudy variation using explainable AI (XAI) and physical modelling method | Associate Supervisor | Doctoral | 2022 |
| Rigorous Security for Flexible Workflow by Coherence and Proof-checking | Associate Supervisor | Doctoral | 2021 |
| Human-centered Artificial Intelligence (AI) for Quality Education | Associate Supervisor | Doctoral | 2021 |
| Sleep Stages Classification Based on Graph Convolutional Networks Using Multi-type Bio-signals | Principal Supervisor | Doctoral | 2020 |
| Epileptic Seizure Prediction based on Synchroextracting Transform and Sparse Representation | Principal Supervisor | Doctoral | 2020 |
| Logical Conditions on Policies in the Internet of Things and Cyber-Physical Systems | Associate Supervisor | Doctoral | 2019 |
| Deep learning based sleep stage classification studies | Principal Supervisor | Doctoral | 2019 |
| Multi-Method Approaches for Sleep EEG Analysis and Sleep Stage Classification. | Principal Supervisor | Doctoral | 2019 |
| Social network behaviour in telecommunication networks | Associate Supervisor | Doctoral | 2014 |
Completed Supervisions
| Research Title | Supervisor Type | Level of Study | Completed |
| --- | --- | --- | --- |
| Real-Time Epilepsy Seizure Detection and Brain Connectivity Analysis using Electroencephalogram | Associate Supervisor | Doctoral | 2023 |
| MODELLING AND NUMERICAL INVESTIGATIONS OF TRANSCRANIAL FOCUSED ULTRASOUND STIMULATION | Associate Supervisor | Doctoral | 2023 |
| Investigating the effects of interactions of environmental factors on grain quality using statistical techniques | Principal Supervisor | Doctoral | 2021 |
| Sleep characteristics and stages detection and analysis using Electroencephalogram (EEG) | Principal Supervisor | Doctoral | 2021 |
| A data based approach for diagnosis and management of yield variability attributed to soil constraints | Associate Supervisor | Doctoral | 2020 |
| Developing new techniques to improve licence plate detection systems for complicated and low quality vehicle images | Principal Supervisor | Doctoral | 2020 |
| Brain network, modelling and corresponding EEG patterns for health and disease states | Associate Supervisor | Doctoral | 2020 |
| Development of data intelligent models for electricity demand forecasting: Case studies in the state of Queensland, Australia | Associate Supervisor | Doctoral | 2020 |
| Stakeholder security analysis - a new approach to security design with example application | Associate Supervisor | Doctoral | 2020 |
| Development of Electroencephalogram (EEG) signals classification techniques | Principal Supervisor | Doctoral | 2019 |
| Streamflow and soil moisture forecasting with hybrid data intelligent machine learning approaches: Case studies in the Australian Murray-Darling Basin | Associate Supervisor | Doctoral | 2018 |
| An intelligent recommender system based on short-term disease risk prediction for patients with chronic diseases in a telehealth environment | Associate Supervisor | Doctoral | 2018 |
| Securing clouds using cryptography and traffic classification | Associate Supervisor | Doctoral | 2018 |
| EEG signals analysis and classification based on graph theory and statistical features | Principal Supervisor | Doctoral | 2017 |
| Human head temperature and electric field investigations under ECT | Associate Supervisor | Doctoral | 2017 |
| Numerical human head modelling and investigation for precise tDCS applications | Principal Supervisor | Doctoral | 2016 |
| Project title | Details | Year |
| --- | --- | --- |
| Australian Research Council (ARC) Discovery Project | This project aims to develop a secured cybersecurity system for workflows and business processes, which enable organizations to provide flexible and more secure web-based services and business communication. The project expects to generate new knowledge, theoretic advancement and result in new technologies in the areas of internet of things and cybersecurity. | 2023 |
| Australian Department of Health Funded Project | The project is to develop an AI-assisted interactive and privacy-preserving system to reduce STI testing related barriers and facilitate linkage to care. | 2022 |