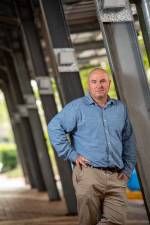 41791

total views of outputs

8575

total downloads of outputs

9

views of outputs this month

6

downloads of outputs this month
Biography
Associate Professor Gavin Beccaria is an academic in the School of Psychology and Counselling at the University of Southern Queensland. And is currently the Psychology Discipline Team Leader. He is a practicing clinical psychologist has been a registered Psychologist since 1993. Gavin has extensive supervision and teaching experience with psychology students at both undergraduate and postgraduate levels and he has provided clinical training and supervision for approximately 500 psychologists in Australia. He also runs a private practice in clinical psychology. He has over 40 peer reviewed publications.
Gavin has had a strong commitment to his profession throughout his career. He is currently the Chair College of Clinical Psychologists Qld Section. From 1999 – 2001 has served Chair and Secretary Toowoomba Branch of the Australian Psychological Society, and from 2007 to 2009 he served as Branch Secretary.
Gavin has taught at USQ since 2007, he was the Coordinator of the Clinical Psychology Program from 2014 – 2018, and Toowoomba Psychology Masters Program Lead from 2019. In 2021 he was appointed as Psychology Discipline Team Leader. He was successful for an Early Career Teaching Award in 2011.
Gavin has written book chapters on mental health assessment, diagnosis, and disorders. He has also published in high-ranking scholarly journals on a wide range of topics including metal health, domestic violence, learning and teaching, work and career, clinical assessment, natural therapies, and Indigenous mental health. He has been an Associate Investigator on two National Health and Medical Research Council (NHMRC) grants and a Chief Investigator in one NHMRC grant part of a research team investigating assessment and treatment of mental health among Indigenous Australians.
Prior to moving to academia in 2007, Gavin was the Director of Psychology in Darling Downs Health Service District. He worked as a psychologist for Qld Health between 1994 and 2007.
Employment
| Position | Organisation | From | To |
| --- | --- | --- | --- |
| Associate Professor | University Of Southern Queensland | 2014 | 2022 |
| Senior Lecturer | University Of Southern Queensland | 2013 | 2022 |
| Lectuer | University Of Southern Queensland | 2007 | 2013 |
| Director of Psychology | Darling Downs Health Service (Toowoomba Hospital) | 2005 | 2007 |
| Senior Psychologist | Darling Downs Health Service (Baillie Henderson Hospital) | 2003 | 2005 |
| Project Officer (Outcomes Team) | Queensland Health Southern Zone | 2003 | 2003 |
| Psychologist | Child and Youth Mental Health Service (Toowoomba) | 2000 | 2003 |
| Psychologist | Toowoomba Hospital | 2000 | 2000 |
| Psychologist | Darling Downs Rural Allied Health Team | 1994 | 2000 |
| Family Services Officer | Department of Family Services (Toowoomba) | 1993 | 1994 |
Expertise
Clinical Psychology
Mental Health Assessment and Treatment
Rural Service Delivery
Health Psychology (including COPD and Cancer)
Psychology of Working and Rural Health Workforce Development
Teaching
Advanced psychopathology
Clinical Supervision
Fields of Research
390499. Specialist studies in education not elsewhere classified
529999. Other psychology not elsewhere classified
Professional Membership
| Professional Membership | Year |
| --- | --- |
| Member of the Australian Psychological Society | |
Current Supervisions
| Research Title | Supervisor Type | Level of Study | Commenced |
| --- | --- | --- | --- |
| Replication and Refinement of CHIQ Reflection Tool. | Principal Supervisor | Masters | 2023 |
| The Impact of World Pandemics on Health Services Management: The Covid 19 Experience in Nigeria and Australia | Associate Supervisor | Doctoral | 2023 |
| Considering the Alternative Model of Personality Disorders from an attachment-based interpersonal perspective | Associate Supervisor | Doctoral | 2022 |
| Teaching Resilience to Children in Australia | Principal Supervisor | Masters | 2021 |
| Effectiveness of using MedTech to evaluate the health journey, patient outcomes and experiences of mental health patients treated in multi-disciplinary health settings | Associate Supervisor | Doctoral | 2021 |
| Exploring the Therapeutic Alliance and the Experiences of Early-Career Psychologists Practicing CBT | Associate Supervisor | Doctoral | 2019 |
| Lending a Helping Paw for Australians with Posttraumatic Stress Disorder | Associate Supervisor | Doctoral | 2019 |
| An investigation into how and where disadvantaged and vulnerable families access health information, and how they utilise this information to make decisions regarding health care needs. | Principal Supervisor | Doctoral | 2019 |
| An Exploration of the Relations Between Dispositional Traits, Cognitive Flexibility and Job Search Self Efficacy | Principal Supervisor | Masters | 2019 |
| A Job-Demands Resources Study of School Counsellors' Self-Efficacy for Mental Health Counselling | Associate Supervisor | Doctoral | 2019 |
| Supporting Transition to Recovery Through Outpatient Group Therapy for People with Substance Use Disorders | Associate Supervisor | Doctoral | 2016 |
Completed Supervisions
| Research Title | Supervisor Type | Level of Study | Completed |
| --- | --- | --- | --- |
| The relations amongst maladaptive cognitions, defence mechanisms and career and life satisfaction. | Associate Supervisor | Masters | 2023 |
| News Representations of Male Victims of Domestic Violenceline numbers | Principal Supervisor | Masters | 2023 |
| EXPLORING THE IMPACT OF ATTENTION TRAINING ON ATTENTION DIFFICULTIES OF OLDER ADULTS | Principal Supervisor | Doctoral | 2022 |
| IDENTIFYING CUMULATIVE HARM IN HELPING PROFESSIONALS: A MEASURE OF IMPACT | Principal Supervisor | Doctoral | 2022 |
| Evaluating the Impact of Visiting Services in Rural and Remote Regions | Principal Supervisor | Masters | 2022 |
| Quality of Life, Fear, and Avoidance in Regional Early Breast Cancer Survivors | Principal Supervisor | Masters | 2022 |
| Adolescent social and emotional wellbeing in Abu Dhabi: Socio cultural determinants of mental health and their relationship to help-seeking behaviour In educational settings: A mixed method exploration | Principal Supervisor | Doctoral | 2021 |
| A mixed-method study of STEM qualified professionals' persistence intentions within the Australian agriculture sector | Associate Supervisor | Masters | 2020 |
| The self-compassionate child: Exploring how self-compassion and mindfulness enhance children's resilience and psychosocial wellbeing | Associate Supervisor | Doctoral | 2019 |
| The importance of self-determined leadership in building respectful workplaces | Associate Supervisor | Doctoral | 2018 |
| Exploration of active citizenship, entrepreneurial behaviour and calling in career | Associate Supervisor | Doctoral | 2016 |
| Verbal and physical violence towards nurses in Queensland | Associate Supervisor | Doctoral | 2016 |