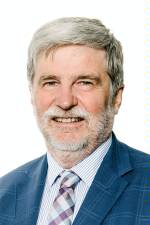 5630

total views of outputs

1328

total downloads of outputs

22

views of outputs this month

6

downloads of outputs this month
Biography
John Bell is the Deputy Vice-Chancellor (Research and Innovation) at UniSQ, starting in the role in August 2019, following 25 years at QUT as Assistant Dean (Research) in the Faculty of Built Environment and Engineering from 2001-2011, and Head of the School of Chemistry, Physics and Mechanical Engineering from 2012-2019.
John has a long record of research across a number of areas, including nanotechnology and new materials development, and materials for energy efficiency, conversion and storage. John also has a strong record of research leadership, building the research capacity of the School of Chemistry, Physics and Mechanical Engineering at QUT over 8 years from 2012-2019. John's current research interests are focussed on functional materials, mainly for energy storage and sustainability. At UniSQ, John has led the development of the iLAuNCH Trailblazer Hub, focussing on the development of Space Launch Technology, as well as leading the University's involvement in the Recycling and Clean Energy Trailblazer Hub led by Deakin University. John is a Chief Investigator on the Australian Research Council Industry Transformation Research on for Safe and Reliable Energy Storage (SafeREnergy).
Over his career John has secured research funding of over A$25 million, and worked with many companies on collaborative research projects, including Dyesol (dye-sensitised solar cells), Ergon Energy (electricity network modelling and energy storage), and Zero Emissions Development (energy storage and electric vehicles). He has published over 250 journal papers.
John is a Fellow of Engineers Australia and is also a Director of the Australian Institute for Nuclear Science and Engineering and the Queensland Cyber Infrastructure Foundation. Previously he was a Director of the Business Council for Sustainable Energy, and the a Director of the Cooperative Research Centre for Integrated Engineering Asset Management and the Cooperative Research Centre for Railway Technologies.
Employment
| Position | Organisation | From | To |
| --- | --- | --- | --- |
| Deputy Vice-Chancellor (Research and Innovation) | University of Southern Queensland | 2019 | |
| Head of School, Chemistry, Physics and Mechanical Engineering | Queensland University of Technology | 2012 | 2019 |
| Assistant Dean (Research) | Queensland University of Technology | 2001 | 2011 |
| Associate Professor | Queensland University of Technology | 1996 | 2000 |
Expertise
Materials Science and Engineering, Nanotechnology, Optical and Electronic materials, photovoltaics, energy storage, building energy efficiency
Teaching
I do not currently teach
Fields of Research
340301. Inorganic materials (incl. nanomaterials)
340302. Macromolecular materials
340304. Optical properties of materials
340305. Physical properties of materials
340307. Structure and dynamics of materials
400803. Electrical energy generation (incl. renewables, excl. photovoltaics)
400804. Electrical energy storage
400808. Photovoltaic power systems
401601. Ceramics
401602. Composite and hybrid materials
401603. Compound semiconductors
401605. Functional materials
401609. Polymers and plastics
401699. Materials engineering not elsewhere classified
Professional Membership
| Professional Membership | Year |
| --- | --- |
| Australian Institute of Physics | |
| American Physical Society | |
| American Chemical Society | |
| Engineers Australia | |
| IMEA | |
Current Supervisions
| Research Title | Supervisor Type | Level of Study | Commenced |
| --- | --- | --- | --- |
| Battery/Supercapacitor Energy Storage System fatigue investigation when supplying PWM inverter for grid Ancillary Services | Principal Supervisor | Doctoral | 2022 |
| Engineering silicon carbide nanoarchitectures for ultra-sensitive and robust sensors | Associate Supervisor | Doctoral | 2022 |
| Development of a Sodium Ion Secondary Battery | Principal Supervisor | Doctoral | 2022 |
| Thermal coupling effect of 3C-SiC/Si heterostructure for sensing in harsh environment | Associate Supervisor | Doctoral | 2021 |