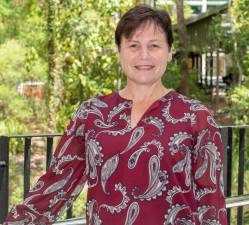 51283

total views of outputs

6508

total downloads of outputs

0

views of outputs this month

0

downloads of outputs this month
Biography
Professor Bernadette McCabe is currently Director at the University of Southern Queensland's (USQ) Centre for Agricultural Engineering (CAE) and is the Research Program Team Leader for Energy and Bioresource Recycling. Bernadette is Australia's National Team Leader for the International Energy Agency (IEA) Bioenergy program Task 37: Energy from Biogas and is a member of the Australian Research Council (ARC) College of Experts.
Bernadette has a background in agricultural & industrial bioengineering and has over 25 years' experience as an academic and researcher. Her research investigates technologies to enable intensive Australian farming and food-processing industries to turn their commercial waste into a valuable commodity. She works with these industries to be more profitable by using organic waste to produce biogas, clean recycled water and biofertiliser. Her research has been applied to the livestock and cropping sectors (both on and off farm) and water utilities.
Bernadette extends her science communication beyond high impact journals by regularly contributing to media outlets to boost public awareness of bioenergy and bioresource recycling and has promoted science in schools since 2007 through CSIRO's STEM Professionals in schools program.
Employment
| Position | Organisation | From | To |
| --- | --- | --- | --- |
| Professor and Director Centre for Agricultural Engineering | Centre for Agricultural Engineering, University of Southern Queensland | 2022 | 2023 |
| Professor | Centre for Agricultural Engineering, University of Southern Queensland | 2019 | 2021 |
| Associate Professor | National Centre for Engineering in Agriculture, University of Southern Queensland | 2015 | 2018 |
| Senior Research Fellow | National Centre for Engineering in Agriculture, University of Southern Queensland | 2014 | 2015 |
| Senior Lecturer | Faculty of Sciences, University of Southern Queensland | 2009 | 2013 |
| Lecturer | Faculty of Sciences, University of Southern Queensland | 2000 | 2008 |
| Senior Technical Officer | Commonwealth Scientific and Industrial Research Organisation | 1997 | 1999 |
Expertise
Energy and resource recovery of agro-industrial waste; Biogas; Anaerobic digestion processes; Agricultural energy independence; Biomethane potential testing; Waste water analysis; Activity testing and degradability analysis; Greenhouse gas mitigation; Biosolids and digestate management; regional circular economy
Fields of Research
300199. Agricultural biotechnology not elsewhere classified
310799. Microbiology not elsewhere classified
400499. Chemical engineering not elsewhere classified
401199. Environmental engineering not elsewhere classified
Professional Membership
| Professional Membership | Year |
| --- | --- |
| Member of Australian Research Council (ARC) College of Experts | |
| National Task Leader for the International Energy Agency's (IEA) Bioenergy Program Task 37: Energy from Biogas | |
| Member of American Society for Agricultural and Biological Engineers | |
| Member Bioenergy Australia | |
Current Supervisions
| Research Title | Supervisor Type | Level of Study | Commenced |
| --- | --- | --- | --- |
| Development of an automated system to perform localised in-crop replanting of sugarcane gaps | Associate Supervisor | Doctoral | 2024 |
| Feasibility of food organics and garden organics (FOGO) collection in a Queensland regional community and closed-loop processing via smaller-scale aerobic composting. | Principal Supervisor | Doctoral | 2023 |
| Techno Economic Assessment of Integrated Processing of Food Organics and Garden Organics in Regional Australia | Principal Supervisor | Masters | 2021 |
| Carbon reduction and resource recovery from on- farm dairy waste | Associate Supervisor | Doctoral | 2020 |
| Prediction of soil structural stability in an irrigated environment | Principal Supervisor | Doctoral | 2018 |
Completed Supervisions
| Research Title | Supervisor Type | Level of Study | Completed |
| --- | --- | --- | --- |
| Microbial Electrochemical Sensor Systems for rapid measurement of Volatile Fatty Acid Intermediates | Principal Supervisor | Doctoral | 2023 |
| Anaerobic digestion of pre-treated slaughterhouse waste | Principal Supervisor | Doctoral | 2018 |
| Project title | Details | Year |
| --- | --- | --- |
| Recycling and Renewable Energy Commercialisation Hub | Trailblazer (Deakin led) | 2023 |
| Nutrients in a Circular Economy (NiCE) | ARC Research Transformation Hub (Canberra, ACT, AU) | 2022 |
| Advancing Regional Agri-Food Waste Valorisation | Fight Food Waste CRC (Adelaide, SA, AU) | 2021 |
| Pilot-scale production of enhanced-value anaerobic digestion waste (digestate) derived bioproducts on the Darling Downs | Fight Food Waste CRC (Adelaide, SA, AU) | 2021 |
| Establishment and commissioning of lab scale granulator to produce granulated organomineral fertilisers and the testing of the organomineral fertiliser in the field | Waste to Biofutures, Queensland Department of State Development, Tourism and Innovation (Brisbane, QLD, AU) | 2020 |
| Make Australian Country Choice Circular | Fight Food Waste CRC (Adelaide, SA, AU) | 2019 |
| Wastes to Profits: Value proposition for better management of wastes in animal industry supply chains | Rural R&D for Profits (Canberra, ACT, AU) | 2018 |
| Re-use of agricultural residues for energy production by anaerobic digestion | UA-DAAD Australia-Germany joint research co-operation scheme (Canberra ACT, AU) | 2017 |
| Process Improvement of Energy and Value Extraction from Agro-Industrial Waste | Queensland Government (QLD, QLD, AU) | 2016 |
| Solid Waste Management of Paunch and Inorganic Waste | Australian Meat Processor Corporation (Sydney, AU) | 2015 |
| Feasibility of feedlot manure pre-treatment systems for optimal biogas production | Meat and Livestock Australia (Sydney, NSW, AU) | 2014 |
| Covered anaerobic ponds to treat abattoir waste water, reduce greenhouse gases and generate bioenergy | Australian Meat Processor Corporation and Meat and Livestock Australia (Sydney, NSW, AU) | 2010 |