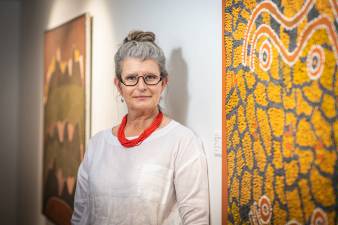 70422

total views of outputs

6559

total downloads of outputs

120

views of outputs this month

69

downloads of outputs this month
Biography
Professor Celmara Pocock is an international leader in heritage research. Her research has been at the forefront of Heritage Studies as it has emerged as a significant international field of theoretical and critical inquiry. She has been awarded competitive research funding including Australian Research Council grants, industry funding and prestigious fellowships. Her research is published in leading research journals, with additional books and book chapters published with prestigious scholarly publishers and editors.
Celmara's research maintains connection with applied aspects of heritage research including heritage management policy and practice. She has authored a number of industry and government reports that continue to be used in heritage practice. Her research leadership draws on her prior experience as a Senior Manager in the Heritage and Museum sectors, including as Assistant Director of Indigenous Heritage for the Commonwealth Government and as the Head of the Cultures and Histories Program at Queensland Museum.
Celmara was appointed as a Member of the Queensland Heritage Council in 2023. She maintains professional memberships of a number of organisations including: Member of the Australian Institute of Aboriginal and Torres Strait Islander Studies, a full member of Australia ICOMOS (International Committee on Monument and Sites), a fellow of the Australian Anthropological Society, a member of the Australian Historical Association and a member of the international Association of Critical Heritage Studies.
Expertise
Heritage Studies, including Aboriginal history and heritage, World Heritage, culture-nature, landscapes, heritage tourism, community based research
Heritage interpretation and museum studies, including material culture, memory, senses and emotion.
Anthropology of space, place and environment, including Great Barrier Reef, Tasmania and regional Queensland.
Teaching
Anthropology
ANT1001 Cultural Diversity: an introduction to anthropology
ANT3011 Cultural Heritage Management
ANT3012 Material Culture and Museums
HMT4001 - Honours Dissertation A
HMT4002 - Honours Dissertation B
Research Supervision - Honours and PhD
Fields of Research
350801. Impacts of tourism
350803. Tourism management
350806. Tourist behaviour and visitor experience
430201. Archival, repository and related studies
430205. Heritage and cultural conservation
440107. Social and cultural anthropology
440199. Anthropology not elsewhere classified
450107. Aboriginal and Torres Strait Islander history
470205. Cultural studies of agriculture, food and wine
470208. Culture, representation and identity
Professional Membership
| Professional Membership | Year |
| --- | --- |
| Australian Institute for Aboriginal and Torres Strait Islander Studies (AIATSIS) | |
| Queensland Heritage Council | |
| Australia ICOMOS | |
| Association of Critical Heritage Studies | |
| Australian Anthropological Society | |
| Australian Historical Association | |
Current Supervisions
| Research Title | Supervisor Type | Level of Study | Commenced |
| --- | --- | --- | --- |
| How endometriosis impacts on women's sense of self: a study of women's lived experiences in Australia | Principal Supervisor | Doctoral | 2023 |
| Cultural Heritage Research: Critical Heritage Studies South Sea Islander heritage in Central Queensland | Principal Supervisor | Doctoral | 2023 |
| The Critique of the Native Title Process ¿ An Indigenous Perspective | Associate Supervisor | Masters | 2023 |
| Wolfenden to Equality: Queensland's Journey and Legacy in Legalising Homosexuality | Associate Supervisor | Masters | 2022 |
| Cultural Heritage Research: Critical Heritage Studies | Principal Supervisor | Doctoral | 2022 |
| Indigenous Roots, Greek Migrants: Commercialisation of Australia's Macadamia | Associate Supervisor | Masters | 2022 |
| A study into how 'food-based experiences' within the domestic space may impact perceptions of wellbeing. | Associate Supervisor | Doctoral | 2020 |
| Whaddup Toowoomba! Exploring Regional Youth Group Engagement and Social and Emotional Wellbeing of Aboriginal and Torres Strait Islander Youth | Associate Supervisor | Doctoral | 2019 |
| Talking about suicide: exploring the role and affect of silence within suicidality | Principal Supervisor | Doctoral | 2019 |
| Understanding the everyday practice of local studies collections in two NSW public libraries: an ethnographic study | Associate Supervisor | Doctoral | 2018 |
| Sea change: Community, Change and Continuity in Tasmania Shack Village | Principal Supervisor | Doctoral | 2018 |
Completed Supervisions
| Research Title | Supervisor Type | Level of Study | Completed |
| --- | --- | --- | --- |
| Innovation at Heritage Tourist Attractions | Principal | Doctoral | 2012 |
| Tourists' Visual Perceptions of Forests and Forest Management in Vancouver Island and Tasmania | Associate | Doctoral | 2014 |
| Temporariness, belonging, and place: Working holidaymakers negotiating regional Australia through seasonal agricultural labour | Principal Supervisor | Doctoral | 2021 |
| Autoimmunity, identity and moralisation: Caring for women with autoimmune diseases in regional Australia | Associate Supervisor | Doctoral | 2021 |
| An exploration of the influence of engagement with commemoration on the social and emotional wellbeing of Aboriginal people in South West Queensland, Australia | Principal Supervisor | Doctoral | 2021 |
| New farmers in Lutruwita/Tasmania: Struggling to form community | Principal Supervisor | Doctoral | 2021 |
| The critical image: Ethics and the art of Vernon Ah Kee | Associate Supervisor | Doctoral | 2017 |
| Project title | Details | Year |
| --- | --- | --- |
| Heritage Places Context Study Review | Queensland Department of Environment and Science | C Pocock and M Stell | 2023 |
| Youth Community Futures | Department of Environment and Science | A Hickey, S Riddle and C Pocock | 2022 |
| First Nations Engagement Southern Queensland and Northern New South Wales (SQNNSW) Hub | Commonwealth Future Drought Fund | C Pocock and R Ward Co-Leads for Indigenous Engagement, | 2021 |
| South-West Indigenous Cultural Trail | Surat Aboriginal Corporation | J Palmer, L Burton and C Pocock: South-West Indigenous Cultural Trail. Surat Aboriginal Corporation | 2016 |
| What could World Heritage listing deliver for Indigenous people? | Australian Research Council Discovery Project (DP140100360) | Lilley, I; Hockings, M T; Pocock, C; Willis, J | 2014 |
| Study of the National Heritage Values of Wurruwurrwuy. Commonwealth Department of Sustainability, Environment, Water, Population and Communities | Commonwealth Department of Sustainability, Environment, Water, Population and Communities | D Collett and C Pocock | 2012 |
| Assessment and Scoping for Revision of Ask First Consultation Guidelines | Commonwealth Department of Sustainability, Environment, Water, Population and Communities | C Pocock and D Collett | 2012 |
| Cape York Criterion iii for Cape York World Heritage Nomination | Australian Department of Sustainability, Environment, Water, Population and Communities | C Pocock and D Collett | 2012 |
| 'From Segregation to Assimilation' A Thematic Study of Policies and Practices Australia (1800 – 1970) | Department of the Environment and Water Resources | C Pocock | 2008 |
| Shifting Baselines identified in the non-scientific literature | Great Barrier Reef Marine Park Authority | C Pocock | 2008 |
| Innovation in Heritage Tourism Interpretation Perceptions | STCRC Joint Scholarship with the Australian Innovation Research Centre | C Pocock and J Crozier | 2007 |
| Effects of Forestry Tasmania Tourism Developments on Visitor Perceptions | STCRC Joint Scholarship with Forestry Tasmania | C Pocock and K Hilsendager | 2007 |
| Living Memory and the Interpretation of Heritage | CRC for Sustainable Tourism Project Grant | C Pocock, M.K. Stell and L. Frost | 2007 |
| The Queensland Historical Atlas: Histories, Cultures, Landscapes | Australian Research Council | P Spearritt; GA Ginn; DJ Carter; SG Ulm; NS Bordes; CA McAlpine; C Pocock; G Mate; PE Barnard. ARC Linkage Project (LP0775186) with Queensland Museum | 2007 |
| Thematic Framework for the Interpretation of Cultural Heritage in Tourism | CRC for Sustainable Tourism Project Grant | C Pocock, M.K. Stell and R. Ballantyne | 2006 |
| Characteristics of Successful Cultural Heritage Tourism | CRC for Sustainable Tourism Project Grant | J. Carlsen, W. Frost,, C Pocock, V. Peel | 2005 |
| Assessing Cultural Heritage Tourism Development Strategies | CRC for Sustainable Tourism | C Pocock, T Sofield and H Maxwell-Stewart | 2004 |
| Cultural Heritage Tourism Research Strategy | CRC for Sustainable Tourism | C Pocock | 2004 |
| The End Crowns the Labour': Interpretation at 'Brickendon | CRC for Sustainable Tourism Project Grant | C Pocock | 2004 |