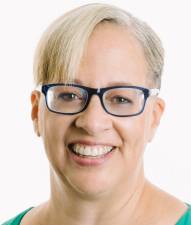 8841

total views of outputs

1817

total downloads of outputs

120

views of outputs this month

15

downloads of outputs this month
Biography
Sonya Osborne is Professor of Nursing in the School of Nursing and Midwifery at University of Southern Queensland (Ipswich Campus). Dr Osborne's role is built on almost 30 years post registration nursing experience across a range of acute care, ambulatory and academic settings. Her doctoral study (QUT, 2009) explored the relationship between practice culture and barriers to implementation of evidence-based practice, while testing the effectiveness of strategies in changing culture and enabling sustainable practice change. The impact of this research is on organisational strategic planning and capacity building in introducing and sustaining changes to improve patient- and service-level outcomes. Dr Osborne's research interests include knowledge translation and implementation science within the contexts of nursing, hospital and health services, and at the intersection of primary and acute care. Dr Osborne is experienced in quantitative, qualitative and mixed methods research approaches.
Other Achievements
• Over $4M in research, project and consultancy funding since 2000 ($1.8M since 2016).
• Consistent record in research and dissemination; >60 publications in international refereed journals and highly ranked (Q1, Q2) multi-disciplinary journals; Scopus H-index 21; >2500 total citations (1505 since 2019); co-authored 10 book chapters covering research & EBP (6), and perioperative nursing & infection control (4).
• Supervised 9 higher degree research students to completion since 2010, including 5 PhD, 1 Professional Doctorate, 2 Master of Applied Science (Research), and 1 Master of Philosophy (MPhil); currently supervising and 9 HDR students (6 doctoral; 3 masters).
• Consistent record of professional service e.g., Editorial Board member for BMC Health Services Research, American Journal of Infection Control (AJIC), and Journal of Perioperative Nursing; Editor for Cochrane Wounds Group; Editorial Review Committee member for several peer reviewed journals, including Worldviews on Evidence based Nursing; International Journal of Nursing Studies (IJNS); and Standards Editor for national ACORN Standards for Perioperative Nursing in Australia from 2013-2018.
• Several awards for scholarship in research and dissemination e.g., USQ Publication Excellence Award 2020; PNAQ People's Choice Presentation Award, 2016; AORN Research Poster Award of Excellence, 2012; QUT/Australian Postgraduate Award offer, 2007; Carla Patterson Publication Award nomination, 2006; Fellow, Centaur Memorial Fund for Nurses, 2005
• Twice awarded QUT Vice Chancellor's Performance Award
• Invited panel member for several funding bodies, including: The Prince Charles Hospital Foundation Innovation Grant Panel; Children's Hospital Foundation General Health Services Research Grant Panel; Children's Hospital Foundation Woolworth's Nutrition-Related Research Grant Panel; Brisbane Diamantina Heath Partners (BDHP) Allied Health My Translation Rules Research Awards; and the NSW Health Translational Research Grants Scheme.
• Approved assessor for the Australian Research Council (ARC) and panel review member for the National Health and Medical Research Council (NHMRC), serving most recently on the 2021, 2022, 2023 NHMRC Synergy Grants panel.
• Inducted as Fellow in the Australian College of Perioperative Nurses (FACORN) in 2018.
Employment
| Position | Organisation | From | To |
| --- | --- | --- | --- |
| Professor of Nursing | University of Southern Queensland | 2019 | 2023 |
Expertise
• implementation science within the contexts of nursing, hospital & health services, and integrated care
• comparative effectiveness research in acute care, surgical and perioperative nursing and patient safety
• clinician capacity building in introducing and sustaining changes to improve patient- and service-level outcomes
Teaching
HSC8060 Research Project Design
HSC8070 Health Masters Project A
HSC8080 Health Masters Project B
Fields of Research
420312. Implementation science and evaluation
420599. Nursing not elsewhere classified
Professional Membership
| Professional Membership | Year |
| --- | --- |
| Australian College of Nursing (ACN) | |
| Australian College of Perioperative Nurses (ACORN), Fellow | |
| Centaur Memorial Fund for Nurses, Fellow | |
| Association of periOperative Registered Nurses (AORN) | |
| Higher Education Research Development Society of Australasia (HERDSA) | |
| Sigma Theta Tau International Honor Society (Sigma) | |
| Health Services Research Association of Australia & New Zealand (HSRAANZ) | |
Current Supervisions
| Research Title | Supervisor Type | Level of Study | Commenced |
| --- | --- | --- | --- |
| Diagnosing mild cognitive impairment: from theory to clinical practice | Associate Supervisor | Masters | 2019 |
| Satellite clinics initiative to increase regular testing for sexually transmitted infections in a Queensland Correctional Facility | Associate Supervisor | Doctoral | 2021 |
| Exploring the use of immersive technology by nurse academics when teaching undergraduate students in Australia. | Associate Supervisor | Doctoral | 2020 |
| Implementation of a digital pediatric early warning tools minimise current cognitive barriers and identify potential new barriers | Associate Supervisor | Masters | 2017 |
Completed Supervisions
| Research Title | Supervisor Type | Level of Study | Completed |
| --- | --- | --- | --- |
| Evaluation of the implementation of an extended hours pharmacy service and a medicine wise culture within an Emergency Department | Principal | Masters | 2020 |
| Perioperative Temperature Management for Women Undergoing Caesarean Section* | Principal | Doctoral | 2017 |
| Incontinence-Associated Dermatitis in the Acute Care Setting: An Exploration of the Phenomenon | Associate | Doctoral | 2016 |
| actors Influencing Sustainability of Health Service Innovation, Emergency Nurse Practitioner Service | Associate | Doctoral | 2016 |
| A Randomised Controlled Trial Evaluating Outcomes of Emergency Nurse Practitioner Service* | Associate | Doctoral | 2015 |
| The Incidence and Predictors of Lower Limb Split Skin Graft Failure and Primary Closure Dehiscence in Day Case Surgical Patients | Associate | Masters | 2013 |
| Development and evaluation of an integrated clinical learning model to inform continuing education for acute care nurses | Principal | Doctoral | 2009 |
| Increased body temperature following subarachnoid haemorrhage: A retrospective correlational study | Associate | Masters | 2009 |
| High School Students¿ Experiences in an Early Entry to University Course at an Australian Regional University | Principal Supervisor | Masters | 2023 |
| The Role of the Hospital in the Home Registered Nurse: A Phenomenological Study | Associate Supervisor | Doctoral | 2023 |
| Project title | Details | Year |
| --- | --- | --- |
| AI-assisted STI risk assessment and Linkage to Care Coaching System: Your Life, Your Body and Your Privacy! | Department of Health (Australia) - Blood Borne Viruses (BBV) and Sexually Transmissible Infections (STI) Scheme- GO4776 – 2021, $500,000 Research Team: i, Y., Tang, Z., Mullens, A., Osborne, S., Dean, J | 2021 |
| Implementation of an Innovative Teledermatology Network for the Early Detection of Melanoma in High Risk Australians, | NHMRC Partnership Project, $1,195,649 Research Team: Soyer HP, Gordon L, Gray L, Aitken J, Whiteman D, Jana M, Eakin E, Osborne S, Finnane A, Caffery L. | 2018 |
| Date | Name | Awarding organisation | Underpinning research |
| --- | --- | --- | --- |
| 2020 | Publication Excellence Award | University of Southern Queensland | |
| 2021 | Publication Excellence Award | University of Southern Queensland | |
| 2018 | Fellow, Australian College of Perioperative Nursing (FACORN) | Australian College of Perioperative Nursing | |