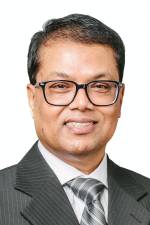 219350

total views of outputs

40111

total downloads of outputs

113

views of outputs this month

58

downloads of outputs this month
Biography
Professor Khorshed Alam is Professor of Economics in the School of Business at the University of Southern Queensland (UniSQ). He is also a founding member of the Centre for Health Research at UniSQ and serves as a member of its Executive Group as well as leading its Health Economics Research. He holds a PhD in Economics from Murdoch University and a Master's in Economics from the Institute of Social Studies of Erasmus University, Rotterdam, Netherlands. Prof Alam currently works on a broad range of health economics research mainly on the use of health economics approaches to generate evidence to assist public health decision making and to identify socio-economic determinants of health, especially in disadvantaged populations. He specialises in economic evaluation, public health and digital health as well as has extensive experience in data analysis, survey design and implementation.
Professor Alam has authored over 200 articles in high-impact journals in his fields of research (70% in top-quartile/Q1 SJR journals), as well as numerous industry and research reports, and refereed conference proceedings. His research has been funded by local, state and federal governments in Australia including grants awarded by the Australian Research Council, and National Health and Medical Research Council (NHMRC), and by not-for-profit organisations (≈$6 million). Recent external grant includes an NHMRC-MRFF project (2023-2027) with The University of Queensland to provide innovative and tailored digital health care services to assist in the prevention, diagnosis, treatment and management of chronic diseases among at-risk First Nations Australians in rural, regional and remote Queensland (≈$1 million).
His current Google Scholar H-index is 43 with more than 8,800 citations, while his Scopus H-index is 35 with over 6,000 citations. Professor Alam is the recipient of the inaugural Ronel Erwee Memorial Award for Excellence in Postgraduate Research Supervision in 2017. He is also the winner of ten Publication Excellence Awards at UniSQ. He is the recipient of the 2019 Faculty of Business, Education, Law and Arts Excellence Award for Research as well as 2020 Postgraduate Research Supervision Award.
Professor Alam has held many leadership roles, including those of Head of Economics Discipline, School Research Coordinator, Founding Member and Associate Director of the Australian Centre for Sustainable Business and Development. He has been on the Council of the Australia and New Zealand Regional Science Association since 2018 and had been a co-editor of the Australasian Journal of Regional Studies.
Professor Alam has supervised 19 HDR students to successful completion at UniSQ. His biggest accomplishment is seeing his students successfully complete their higher degree research studies. He has also mentored and supported the development of a number of new academic staff members, and post-doctoral and mid-career researchers. He is currently supervising a diverse group of twelve PhD students.
Applications from potential PhD students with demonstrated analytical skills and publication experiences are particularly welcome in his areas of interest including social determinants of health, health economic evaluation, carbon footprint analysis and emission reduction strategies, and social cost-benefit analysis.
Expertise
Carbon accounting
Digital health
Health economic evaluation
Social cost-benefit analysis
Social determinants of health
Sustainability
Teaching
Sustainable Economies
Economics of Climate Change
Fields of Research
380101. Agricultural economics
380105. Environment and resource economics
380108. Health economics
410199. Climate change impacts and adaptation not elsewhere classified
Current Supervisions
| Research Title | Supervisor Type | Level of Study | Commenced |
| --- | --- | --- | --- |
| The impact of prenatal maternal medication and dietary habits and parental alcohol consumption on childhood obesity and overweight risk in Australia | Associate Supervisor | Masters | 2023 |
| COMPARED ECONOMIC MODELS FOR HEALTH TECHNOLOGY ASSESSMENT | Associate Supervisor | Doctoral | 2023 |
| Prevalence and predictors of mental health care service utilization among Australian children and adolescents  | Associate Supervisor | Doctoral | 2022 |
| An Evaluation of Opportunity Identification of Nascent Entrepreneurs in Agricultural Business in South-Western, Nigeria. | Associate Supervisor | Doctoral | 2022 |
| Prevalence, associated risk factors, diagnosis, supportive health care facilities, health outcomes, and economic burden: A complete essay on dementia in Australia | Principal Supervisor | Doctoral | 2022 |
| The economics of an ageing population: treatment, risk factors and subjective well-being of older Australians with dementia and mild cognitive impairment. | Principal Supervisor | Doctoral | 2022 |
| Drug-resistant tuberculosis: Epidemic trajectory, related stigma, and their implications to essential service delivery | Principal Supervisor | Doctoral | 2021 |
| Impact of and Farmers Adaptation Responses to Climate, Market and Policy Risk in Low Rainfall Areas of New South Wales | Principal Supervisor | Doctoral | 2021 |
| Access to Digital Health Services and Health-Related Quality of Life among Culturally and Linguistically Diverse Females: A Study in Regional Queensland   | Principal Supervisor | Doctoral | 2020 |
| Recovery from the economic downturn as a result of COVID-19 from an Australian SME perspective | Principal Supervisor | Doctoral | 2020 |
| The role of rural entrepreneurship on rural development in Solomon Islands | Principal Supervisor | Doctoral | 2020 |
| Obesity, gastro-oesophageal reflux disease (GORD) and the role of bariatric surgery | Principal Supervisor | Doctoral | 2019 |
Completed Supervisions
| Research Title | Supervisor Type | Level of Study | Completed |
| --- | --- | --- | --- |
| SUBSTANCE ABUSE AND ITS PREVENTION PROGRAMS: THE CASE OF REFUGEE YOUTH | Principal Supervisor | Masters | 2022 |
| Inequity and inequality in Australian mental health and care systems: An investigation into the economics of wellbeing | Principal Supervisor | Doctoral | 2021 |
| Untangling the health consequences and adverse labour market outcomes of obesity in the Australian adult population: New insights from longitudinal data | Principal Supervisor | Doctoral | 2021 |
| Demystifying digital divide and role of information and communication technologies on health and disability in Australia | Principal Supervisor | Doctoral | 2021 |
| The burden of cancer and its distribution and consequences for Australia: Evidence from health economic evaluation and advanced statistical modelling | Principal Supervisor | Doctoral | 2020 |
| Evaluating performance of peer-to-peer lending platforms: A cross-country empirical study of panel data | Principal Supervisor | Doctoral | 2020 |
| Understanding the role of chronic disease and private health insurance in determining healthcare-seeking behaviour in Australia: An applied microeconomic evaluation | Principal Supervisor | Doctoral | 2019 |
| Empirical analysis of the dynamic relationship between energy, militarisation, CO2 emissions and economic growth in Myanmar | Principal Supervisor | Masters | 2018 |
| An evaluation of the broadband ecosystem in Western Downs Region (WDR) | Associate Supervisor | Doctoral | 2017 |
| Development of Antibacterial Hemp Hurd/Poly(Lactic Acid) Biocomposite for Food Packaging | Associate Supervisor | Doctoral | 2016 |
| Assessing stakeholders' perspectives regarding water policy implementation in Sao Paulo State, Brazil | Associate Supervisor | Doctoral | 2016 |
| Assessing stakeholder's salience transition effects on social practices in the resources industry in the Surat Basin, Queensland- empirical analysis | Principal Supervisor | Doctoral | 2016 |