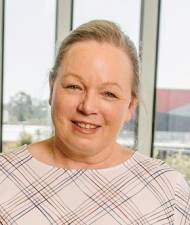 44343

total views of outputs

8175

total downloads of outputs

310

views of outputs this month

175

downloads of outputs this month
Biography
Dr Alice Brown is a distinguished academic practitioner, specialising in Early Childhood Education (ECE) health, wellbeing, and pedagogy, with nearly two decades experience as a full-time lecturer, within the School of Education, at the University of Southern Queensland (Senior Lecturer since 2015). Her exemplary teaching and scholarship of teaching and learning (SoTL) has been recognised through awards, such as the 2020 USQ Excellence Award for Advancing Student Success, the 2020 USQ Excellence in Teaching Award for Online learning Innovation, Head of School (HoS) and Dean commendations, and reflected through consistently high SETS data (averaging 4.5/5 - 2017-2022).
Dr Alice Brown has a strong track record of successful SoTL fellowships and grants, leading and working in multi-disciplinary teams (including 3 grants since 2015). She has established a national and emerging international reputation in SoTL focussed on innovative strategies to support online student engagement in higher education (HE); including the development of the world's first 'nudge protocol' for nudging low or non-engaged students; and advancing the Online Engagement Framework (OEF) for HE.
Dr Alice Brown has lead and mentored others in course design and learning strategies that heighten student engagement, at a national and international level, by drawing on my expertise in SoTL to advance, inform, and shape knowledge, and T&L practice. She leverages digital tools and technology (such as smart phones, zoom, and course learning analytics) in ways that are student-focussed, equitable, and enhance student engagement and satisfaction Her leadership in scholarship is dualistic and encompasses: i) leadership in scholarship that shapes T&L and 'evidence of outputs' related to scholarship research.
Dr Alice Brown exemplifies an extensive track record for publishing high quality output. She is an expert in the field of methodological considerations for engaging in research with families in ways that are ethical, empathetic, and respectful (including a sole-authored research book, see Brown, 2019). She has a track record for attracting internal and external research income and leading research teams focussed on the ECE related research projects. She evidences a strong history of leadership in the supervision, development, and training of HDR cohorts, with key strategies being the mentoring of early career supervisors (ECS) and co-publishing with doctoral students.
Employment
| Position | Organisation | From | To |
| --- | --- | --- | --- |
| Senior Lecturer, Early Childhood Education (Specialising in health, wellbeing and p | University of Southern Queensland | 2015 | 2023 |
Expertise
online learning and engagement
higher education
nudging
nonengagement
Early childhood
E-learning models
wellbeing
children and families
Fields of Research
390302. Early childhood education
390303. Higher education
390399. Education systems not elsewhere classified
Professional Membership
| Professional Membership | Year |
| --- | --- |
| Higher Education Research and Development Society of Australasia | |
Current Supervisions
| Research Title | Supervisor Type | Level of Study | Commenced |
| --- | --- | --- | --- |
| Expatriate Families with Neurodivergent Children: A Phenomenological Case Study | Associate Supervisor | Doctoral | 2023 |
| Unearthing shared support relationships between educators and families in contributing to childrens wellbeing utilising Situational Analysis (SA) and poststructural case study design | Principal Supervisor | Doctoral | 2023 |
| Implementing the National Principles for Child Safe Organisations in an early learning context. | Principal Supervisor | Masters | 2022 |
| Parents' Perceptions About the Values and Benefits of Electronic Games on Young Children in Jordan: A Case Study | Principal Supervisor | Doctoral | 2021 |
| The experiences of Australian dyslexic children and their parents: An exploration of allyship and parent-school partnerships | Principal Supervisor | Doctoral | 2021 |
| Building Capacity and Self-Efficacy in Teaching Scripture to Early Years Learners | Principal Supervisor | Doctoral | 2016 |
| BEYOND IDEAS AND COMPETENCIES - EXPLORING SUCCESSFUL KNOWLEDGE TRANSFER PRACTICES OF EARLY CHILDHOOD EDUCATORS: A CASE STUDY | Associate Supervisor | Doctoral | 2014 |
Completed Supervisions
| Research Title | Supervisor Type | Level of Study | Completed |
| --- | --- | --- | --- |
| Investigating early years educators' understandings of, beliefs about and practices of active play in Colombo, Sri Lanka | Principal Supervisor | Doctoral | 2023 |