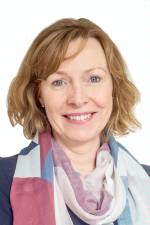 18304

total views of outputs

1101

total downloads of outputs

37

views of outputs this month

2

downloads of outputs this month
Biography
Career Summary: CI Whiteside has more than twenty years of experience in the higher education sector. She has a Bachelor of Science degree from James Cook University and a PhD in Biomedical Sciences and Graduate Certificate in Academic Practice from Queensland University of Technology (QUT). She has held teaching, research and leadership roles in four Australian universities and a visiting lecturer appointment in the United Kingdom. She has undertaken leadership and management training through Harvard University, the Australian Institute of Company Directors and the Australian Institute of Management. In her current role at the University of Southern Queensland (UniSQ) she is the Associate Head of School (Medical Sciences), Chair of the Darling Downs-South West Medical Pathway (DDSWMP) Student Selection and Admissions, the Molecular Biomarkers Research Group Lead (Centre for Health Research, Institute for Resilient Regions) and Medical Materials and Technologies Lead in the Sustainable Industry Manufacturing for Long-term Ecosystems (SIMPLE) Hub (Centre for Future Materials, Institute of Advanced Engineering and Space Sciences). Her research track record is in molecular biomarkers, cancer biology, survivorship, women's health and student learning however since 2020 she has been developing capacity in Aboriginal health research and medical technologies. CI Whiteside is a Director/Advisor/Member on several boards including Blush Cancer Care Inc (Deputy Chair), Yvonne O'Neill Academy Board (providing education/training pathways for Aboriginal and Torres Strait Islander youth), and the Undergraduate Clinical Aptitude Test (UCAT) Australia-New Zealand Consortium Board, Test Management Committee, Research Committee and Rural Medicine Interest Group. She is also a UniSQ representative on the University of Queensland (UQ) MD Admissions Board and the DDSWMP Research, Infrastructure and MD Working Groups. She is as an elected member of the UniSQ Academic Board and Research Committee and an appointed member of the Institutional Biosafety Committee. CI Whiteside advocates for equal opportunity in research and academia through her roles with the UniSQ Science in Australia Gender Equity (SAGE) Initiatives, Early Career Researcher Program Steering Committee and previously the UniSQ Diversity and Inclusion Committee (2020 – 2021). She is an active proponent for science outreach in schools, especially in remote and regional areas including as part of the UniSQ Deadly Ways Indigenous Outreach and Engagement program and cancer fundraising, support and advocacy in her volunteer roles with the National Breast Cancer Foundation and Cancer Council.
Research Contributions: CI Whiteside has 48 peer-reviewed research outputs and 1098 citations recorded by Google Scholar. Her highest first author citation count (98) is for a publication from her PhD research and her highest overall citation count (256) is for a review with her colleagues from QUT. Her H index and i10 index is 13 (noting that her corrected years of research productivity is 9 years and 10 months, NHMRC Relative to Opportunity Policy). The mean impact factor of the journals that she has published her research is 6.5 (highest 11.205 and lowest 1.795) and all but five are in Scientific Journal Ranking (SJR) quartile 1. CI Whiteside is regularly invited to speak on research topics in cancer and women's health to both academic and community groups.
Research Support and Funding: Although CI Whiteside has had a high administrative and teaching workload in her career to date, she has attracted ~$5.35M in external research funding in her roles at UniSQ and QUT. As a chief investigator, she has been successful in securing an NHMRC Project Grant, a Dept of Health 'Closing the Gap' Grant and a Dept of Education, Skills and Employment Regional Research Collaboration Program Grant. In the latter, CI Whiteside is the Medical Materials and Technologies Lead.
Collaborations: CI Whiteside collaborates with other researchers both within her discipline of biomedical sciences and interdisciplinary (including nursing, public health, medicine, engineering, materials science and statistics) and works closely with the communities that her research serves (cancer patients and consumer advocates, undergraduate and medical students and Aboriginal Medical Services). She has active collaborations with QUT, UQ Rural Clinical School, Darling Downs Health, Southwest Hospital and Health Service, Goolburri AMS and Charleville AMS and Han University, The Netherlands. She has previously collaborated with researchers at University of California, Harvard University Medical School, Nanjing Normal University, Translational Research Institute and Queensland Institute of Medical Research – Berghofer.
Community Engagement and Participation: Relevant to this application, CI Whiteside's past research has engaged Aboriginal Medical Services, Primary Health Network DDWM, Darling Downs Health Innovation Research Collaborative, and other advocacy groups. CI Whiteside has completed the University of Technology, Sydney Supervising Indigenous Research and Higher Degree Research Students Micro credential (2022) as well as the Centre or Cultural Competence Australia Foundation In Aboriginal And Torres Strait Islander Cultural Competence course (2020). Furthermore, CI Whiteside is leading a Dept of Health 'Closing The Gap' funded project aimed at improving the management of chronic wounds in regional, rural and remote Aboriginal Medical Services. This project has been co-designed with Community and informed through respectful and culturally appropriate research methods. CI Whiteside has also been a volunteer with the CSIRO STEM Professionals in Schools program since 2010 where she partners with schools and teachers to enhance science education and opportunities for students, particularly in under-represented groups including Aboriginal and/or Torres Strait Islander students, rural and remote and young women students.
Research Supervision and Mentoring: CI Whiteside has supervised 42 HDR and Honours students to completion and is the current primary supervisor of four PhD students and associate supervisor of three PhD students. CI Whiteside also supervises one Honours student and one industry placement student and is a mentor in the UniSQ Early Career Researcher Program. CI Whiteside supervises a staff of 26 and mentors these academics in their career planning and progression.
Honours and Awards:
• Life Sciences Queensland, Merck Life Science Rural and Regional Service Award finalist, 2022,
• Women in Technology Regional, Rural and Remote Award finalist, 2021,
• Commonwealth Games Baton Bearer in Toowoomba (nominated for contributions to medical research and community outreach), 2018,
• Winner - Queensland Young Tall Poppy Award, 2013,
• Institute of Health and Biomedical Innovation QUT Bluebox BIO Fellowship, fully funded travel and conference registration to BIO Congress Chicago, USA, April 2013,
• Winner - University of Sydney Medical Research Conference 2002 Post-Doctoral Category Best Oral Presentation,
• Winner - Australian Society for Reproductive Biology Young Scientist of the Year, 1999,
• Runner-Up, Australian Society for Medical Research Queensland Prize, 1999,
• Winner, University Medal and Excellence Award for Teaching, Faculty of Health, Engineering and Sciences (UniSQ), 2019,
• Winner, Faculty of Health, Engineering and Sciences (UniSQ) Teaching Excellence Award, 2019,
• Semi-finalist, Queensland Regional Achievement and Community Awards (Educational Innovation Award), 2016,
• Winner, 'Star of the University of Bedfordshire Award' for Best Lecturer in Biomedical Science, 2008.
Professional Involvement: CI Whiteside has been an active member in the Multinational Association for Supportive Care in Cancer, Higher Education Research and Development Society of Australia, Wounds Australia and Women in Technology professional societies.
Employment
| Position | Organisation | From | To |
| --- | --- | --- | --- |
| Professor (Biomedical Sciences) | University of Southern Queensland | 2013 | 2023 |
Expertise
Cancer, survivorship, Aboriginal peoples' health and advocacy, stroke, student learning, women's health, medical materials and technologies
Teaching
BIO3103 Applications in Human Tissue Engineering
BIO3203 Applications in Medical Biotechnology
Fields of Research
321499. Pharmacology and pharmaceutical sciences not elsewhere classified
329999. Other biomedical and clinical sciences not elsewhere classified
390110. Medicine, nursing and health curriculum and pedagogy
Professional Membership
| Professional Membership | Year |
| --- | --- |
| Multinational Association for Supportive Care in Cancer | |
| Higher Education Research and Development Society of Australia | |
| Wounds Australia | |
| Women in Technology | |
Current Supervisions
| Research Title | Supervisor Type | Level of Study | Commenced |
| --- | --- | --- | --- |
| Cerebrovascular Function and Cognition in Breast Cancer Patients and the Role of Exercise Training | Principal Supervisor | Doctoral | 2023 |
| A 3D bioengineered bone microenvironment to quantitatively measure the tumourigenic properties of metastatic associated fibroblasts (MAFs) in cancer metastases. | Associate Supervisor | Doctoral | 2023 |
| The role of stress in moderating the effects of fatigue on quality of life among stroke survivors. | Principal Supervisor | Doctoral | 2022 |
| Investigating the potential of novel compounds produced by Australian fungal endophytes to treat and prevent chronic wounds. | Associate Supervisor | Doctoral | 2022 |
| ABORIGINAL TRADITIONAL BUSH REMEDIES INCORPORATED INTO BIOACTIVE HYDROGEL FILMS AS A POTENTIAL TREATMENT FOR CHRONIC WOUNDS. | Principal Supervisor | Doctoral | 2021 |
| The effects of increased respiratory muscle work on biomarkers of muscle damage | Associate Supervisor | Doctoral | 2018 |
| Exploring the attitudes of students to the study of bioscience within the Complementary Medicine (CM) curriculum. | Principal Supervisor | Doctoral | 2017 |
| Curcumin in the prevention of cancer development | Associate Supervisor | Doctoral | 2017 |