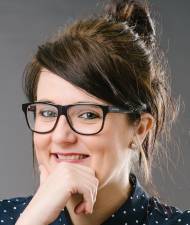 9053

total views of outputs

2916

total downloads of outputs

309

views of outputs this month

81

downloads of outputs this month
Biography
Kate Cantrell is an award-winning writer, editor, and critic, working at the intersection of Creative Writing, Mobility Studies, and Social Justice. Her research specialisation is contemporary accounts of wandering and narrative representations of illness, immobility, and displacement, with a special focus on KidLit and ZitLit (Children's and Young Adult Literature). She has published over 70 journal articles, conference papers, book chapters, features, and essays, as well as industry articles in high-profile outlets such as The Sunday Mail, The Conversation, and Times Higher Education. Her short stories, creative non-fiction, and poetry appear in highly-esteemed magazines and journals such as Overland, Meanjin, Westerly, Island, Hecate, Meniscus, Axon, and Cordite Poetry Review, among others.
The first Arts researcher in Queensland to be awarded a Smart Futures Fellowship, Kate's research has attracted external funding and often draws media interest. She has produced commissioned output for community organisations such as Surf Life Saving Australia; government bodies such as Tourism Queensland; and NGOs such as UNANIMA International. She has also consulted on global campaigns at the United Nations, where she continues to build globally significant partnerships through her arts advocacy. At present, Kate is the Special Issues Editor of TEXT, Australia's leading journal in Creative Writing, and the Associate Editor (Literature) of Queensland Review, a leading journal in Australian Studies and the only academic journal devoted entirely to multi-disciplinary Queensland scholarship.
An experienced teacher, Kate has taught at top universities in Australia, Japan, and the United Kingdom, and she has an established record of teaching excellence in Writing, Editing, and Publishing. She has a collection of national and international teaching awards and grants, and has an emerging reputation as an expert in trauma-informed practice. In 2019 and 2020, Kate was awarded consecutive teaching and learning citations for building reading resilience through trauma-informed pedagogy (2020) and supporting professional learning through student partnership (2019).
Teaching
PUB5001 Introduction to Editing and Publishing
PUB5002 Writing for Editors
PUB5003 Editing in Practice
PUB5004 Professional Practice in Editing and Publishing
PUB5005 Book Design and Production Management
PUB5006 Digital Publishing Internship
PUB5007 Book Promotion, Marketing, and Research
PUB8001 Magazine Publishing Project
SCA1002 Introduction to Creative and Critical Thinking
Fields of Research
360201. Creative writing (incl. scriptwriting)
470208. Culture, representation and identity
470214. Screen and media culture
470502. Australian literature (excl. Aboriginal and Torres Strait Islander literature)
470506. Children's literature
Professional Membership
| Professional Membership | Year |
| --- | --- |
| Australian Society of Authors (ASA) | |
| Australasian Association of Writing Programs (AAWP) | |
| Australian Federation of Graduate Women (AFGW) | |
| Queensland Writers Centre (QWC) | |
| Institute of Professional Editors (IPEd) | |
Current Supervisions
| Research Title | Supervisor Type | Level of Study | Commenced |
| --- | --- | --- | --- |
| SELF IN THE MAKING: VIRGINIA WOOLF'S PLASTIC SUBJECTS | Associate Supervisor | Doctoral | 2023 |
| Implementing a Trauma-informed Editing Framework: Practical Benefits to Editor and Author Wellbeing and the Role of Reading Resilience in Australian Editing Praxis | Principal Supervisor | Doctoral | 2023 |
| The State of Subsidised Youth Arts in Australia. | Associate Supervisor | Doctoral | 2021 |
| GENRE FICTION AND SELF-PUBLISHING:A GLOBAL COMPARISON OF ONLINE AUTHOR PLATFORMS FOR AUTHOR-DRIVEN PUBLISHER FICTION WORKS | Principal Supervisor | Doctoral | 2021 |
| Fandom Files: Fictocriticism, Fanfiction and Creative Writing Pedagogy | Associate Supervisor | Doctoral | 2019 |
| Project title | Details | Year |
| --- | --- | --- |
| Trauma-Informed Pedagogy in Higher Education: A Whole-of-University Framework | UniSQ Grant for Embedded Learning and Teaching Strategy (GELTS)—$7931 | 2022 |
| How Stories Enable Coping in People Facing Traumatic Diagnosis | UniSQ Research Capacity Building Grant (Health)—$14,686 | 2022 |
| Early Career Research Grant | Higher Education Research and Development Society of Australasia (HERDSA)—$1000 | 2021 |