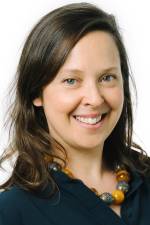 14423

total views of outputs

2443

total downloads of outputs

10

views of outputs this month

20

downloads of outputs this month
Biography
Annette Brömdal is an Associate Professor in Sport, Health and Physical Education at UniSQ. Prior to their academic position at UniSQ Annette worked at the United Nations Development Fund for Women (now UN WOMEN) and coordinated projects and initiatives preventing trafficking in women in Thailand by addressing normative dimensions of demand.
Associate Professor Annette Brömdal's health promotion and rights research focuses on bodies, gender, and sexuality through co-designing and working in partnerships with LGBTQIA+ Sistergirl and Brotherboy community stakeholders. As a nationally and internationally recognised expert, their research contributes to an important evidence-base utilised by multi-stakeholders to alleviate injustices for diverse LGBTQIA+ communities across societal settings.
A/Prof Brömdal has 37 high-quality research outputs (18 Q1 [10 D1 and 7 D2] and 4 Q2 journals; 1 self-authored book; 10 book chapters for prestigious international handbook/prestigious volumes [Palgrave and Routledge]; 2 creative works [NTROs] displayed at a high-profile art exhibition with international curator contributions; 2 stakeholder research reports (Queensland Health, and Lifeline Darling Downs & South West Queensland) in the LGBTQIA+ health and rights promotion space (347 citations; h-index 9 [Google Scholar; Feb 23]), and has been awarded AUD$309,278 in research funding as Chief or Co-Investigator. In leading the UniSQ Sexuality and Gender Research Program team, Annette has a wealth of supervisory experience, currently supervising 6 RA staff, 10 PhD students, 7 Masters students and Honours students, including 5 HDR completions, and 3 near HDR completions.
A/Prof Brömdal is leading a number of funded and non-funded research projects in partnership with LGBTQIA+ communities and government stakeholders (e.g., Queensland Health, Queensland Council for LGBTI Health, Queensland Positive People, LGBTI Community Ageing Network Sunshine Coast, DiversityWise, True Relationships & Reproductive Health Queensland, Queensland Art Gallery and Gallery of Modern Art), including with international scholars at world-renowned institutions (such as the Universities of Brown, and Vanderbilt in the US), and for the last 10 years their research has specifically centred around promoting the health and rights of Rainbow community-members in healthcare, educational, and carceral settings through innovative methodological approaches.
Annette's publications include articles in scholarly journals such as the International Journal of Transgender Health; Archives of Sexual Behaviour; Journal of Homosexuality; Journal of Gay & Lesbian Mental Health; Feminism & Psychology; Journal of Personality; Ethos; Punishment & Society; Journal of Interpersonal Violence; International Journal of Sport Policy and Politics; Sport, Education and Society; Sex Education; Discourse: Studies in the Cultural Politics of Education; Qualitative Research Journal; book chapters in Responsibility and Responsibilisation in Education (2018 Routledge); The Palgrave Handbook of Sexuality Education (2017); The Palgrave Handbook of Incarceration across Popular Media (2020); Uplifting Careers in Gender & Sexuality in Education (2019; Palgrave); and single authored books: Intersex – A Challenge for Human Rights and Citizenship Rights (2008 VDM Verlag).
A/Prof Brömdal's national and international leadership in the gender, sexuality, health, and rights space is recognised through their receipt of two UniSQ Publication Excellence Awards (2019; 2020), a UniSQ Highly Commended Excellence Award for Diversity and Inclusion in 2020, and a 2022 nomination for the Australian Women in Technology Community Impact Award.
Employment
| Position | Organisation | From | To |
| --- | --- | --- | --- |
| Associate Professor in Sport, Health and Physical Education | University of Southern Queensland | 2023 | |
| Director of Non-Initial Teacher Education Programs - School of Education | University of Southern Queensland | 2019 | |
| Academic Team Leader - School of Education | University of Southern Queensland | 2019 | |
Expertise
Critical intersex studies, Critical trans discourses, Trans discourses in carceral settings, Bodies, gender and sexuality in sport, Bodies, gender and sexuality in education, LGBTQIA+ Sistergirl and Brotherboy ageing
Teaching
EDH2152 Health and Wellbeing
EDH3150 Physical Activity and Society
Fields of Research
390406. Gender, sexuality and education
440202. Correctional theory, offender treatment and rehabilitation
440209. Gender and crime
440504. Gender relations
440505. Intersectional studies
440508. Transgender studies
441010. Sociology of gender
Professional Membership
| Professional Membership | Year |
| --- | --- |
| The Australian Sociological Association (TASA) | |
| The Australian Association for Research in Education (AARE) | |
| The Queensland Queering Education Consultative Committee (QQECQ) | |
Supervision Interests
Critical intersex studies, Critical trans discourses, Trans discourses in carceral settings, Bodies, gender and sexuality in sport, Bodies, gender and sexuality in education, LGBTQIA+ Sistergirl and Brotherboy ageing
Current Supervisions
| Research Title | Supervisor Type | Level of Study | Commenced |
| --- | --- | --- | --- |
| The Lived Experiences of Men Who Pair with Men | Associate Supervisor | Doctoral | 2023 |
| Facilitating empathetic, safe and authentic conversations surrounding the topic of LGBTQ+ inclusion and awareness in evangelical Christian spaces. | Principal Supervisor | Masters | 2023 |
| Fear and stress in public bathrooms: a psychophysiological study comparing gendered responses | Associate Supervisor | Masters | 2022 |
| Mental Health within the Rainbow: Examining the Mental Health and Wellbeing of Young People who Identify as Sexual Orientation Diverse and/or Gender Diverse | Associate Supervisor | Doctoral | 2022 |
| From knowing to being: Embodied change through exposure to others with intersex lived experience | Associate Supervisor | Doctoral | 2022 |
| Safe Connections Toowoomba: Evaluating Lifeline Awareness Raising Workshops for Parents and Guardians Seeking to Connecting and Supporting LGBTQIA+ Communities | Associate Supervisor | Masters | 2022 |
| Detrans geographies: An exploration of detrans borders and belonging | Associate Supervisor | Doctoral | 2021 |
| The impact, challenges and complexities of being a gay, lesbian, bisexual or transgender primary school leader in New South Wales public schools | Associate Supervisor | Doctoral | 2021 |
| Satellite clinics initiative to increase regular testing for sexually transmitted infections in a Queensland Correctional Facility | Associate Supervisor | Doctoral | 2021 |
| Exploring the needs of people with advanced incurable cancer within the gastrointestinal tract, their carers and expert health care professionals. | Principal Supervisor | Masters | 2020 |
| COMMUNITY-LED DEVELOPMENT IN HEALTH: An application of a work-based, case-study in West Moreton to gauge community perceptions of the use of a Community-led Development Methodology, for sustainable, improved health outcomes. | Principal Supervisor | Masters | 2020 |
| Three-dimensional High-Performance University Based Structure (HUBS) on the development of NRL Match Officials | Associate Supervisor | Doctoral | 2018 |
| Gender Identity and Autism Spectrum Disorder | Associate Supervisor | Doctoral | 2016 |
Completed Supervisions
| Research Title | Supervisor Type | Level of Study | Completed |
| --- | --- | --- | --- |
| Pelvic Floor Health: Examining the Knowledge, Attitudes and Experiences of Personal Trainers and Middle-Aged Women in Inner Regional Queensland | Associate Supervisor | Masters | 2023 |
| A Scoping Review of Black African Men participating in civic life as they migrate, resettle, and integrate in Australia. | Associate Supervisor | Masters | 2023 |
| PERINATAL OUTCOMES OF PASIFIKA WOMEN IN AUSTRALIA: A WORK-BASED INTEGRATIVE LITERATURE REVIEW AND DISCUSSION | Principal Supervisor | Masters | 2023 |
| HIGH-RISK ANTENATAL WOMEN¿S PERCEPTIONS OF DIETITIAN APPOINTMENTS WITH AN AIM OF REDUCING THE FAIL TO ATTEND RATE: A WORK-BASED STUDY IN THE WEST MORETON HOSPITAL HEALTH SERVICE | Principal Supervisor | Masters | 2022 |
| Intergenerational ambivalence in cohabiting parent-adult child families:An anti-narrative account of cohabiting families in regional Australia | Associate Supervisor | Doctoral | 2022 |
| A WORK-BASED STUDY OF LEG STRENGTH AND AGILITY PERFORMANCE IN ADOLESCENT FEMALE ATHLETES PARTICIPATING IN COMPETITIVE QUEENSLAND AFLW: IMPLICATIONS FOR FUTURE PRACTICE | Associate Supervisor | Masters | 2022 |
| A PRELIMINARY, WORK-BASED STUDY OF HYPERTROPHIC TRAINING AND LANDING MECHANICS OF ADOLESCENT FEMALE ATHLETES IN QUEENSLAND | Associate Supervisor | Masters | 2022 |
| A Mentoring Model for Women Doctoral Students in Regional, Rural, and Remote Queensland: Developing Female Entrepreneurial Intelligence Using a Quantum Framework | Associate Supervisor | Doctoral | 2016 |
| Project title | Details | Year |
| --- | --- | --- |
| Teaching in the Time of Social Media Misinformation, Mal-information and Marginalisation: An Intersectional Model and Toolkit for Empowering Students through Inclusive Critical Social Media Literacy | Granting Agency: QLD Government Education Horizon Research Grant Amount: $82,076 | 2022 |
| Safe Connections Toowoomba: Connecting and Supporting LGBTIQA+ Communities | Granting Agency: Lifeline Darling Downs & South West QLD Amount: $51,598 | 2021 |
| Mapping Intimate Transgender Citizenship while Incarcerated in Australia and the US | Granting Agency: Research Capacity Building Grant, University of Southern Queensland Amount: $13,478 | 2020 |
| Influence of a three-dimensional High-Performance University Based Structure (HUBS) on the development of Match Officials | Granting Agency: NRL Ltd Amount: $90,000 | 2019 |
| Knowledge, Attitudes and Practices regarding Sexual behaviours, HIV/STIs and Substance Use Among Previously Incarcerated Transgender and Gender Diverse People in Queensland | Granting Agency: HIV Foundation QLD Amount: $31,790.70 | 2017 |
| Date | Name | Awarding organisation | Underpinning research |
| --- | --- | --- | --- |
| 2020 | Highly Commended Excellence Award for Diversity and Inclusion | University of Southern Queensland | |
| 2020 | Q1 Research Publication Excellence Award for the School of Education | University of Southern Queensland | |
| 2019 | UNISQ Unit-Specific Publication Excellence Award | University of Southern Queensland | |
| 2015 | Teaching Award, School of Education, Faculty of Arts and Education | Deakin University | |