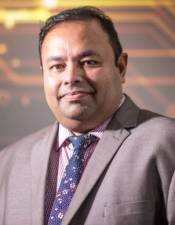 175274

total views of outputs

16425

total downloads of outputs

207

views of outputs this month

44

downloads of outputs this month
Biography
Prof Ravinesh Deo's interests are artificial intelligence & its application to renewable energy and electrical power systems, intelligence, defence, health and engineering domains. He focuses on machine learning and big data, with a particular focus on data mining, artificial intelligence, deep learning, privacy preservation and cyber security. Prof Deo is a Highly Cited Researcher ranked in the top 1% by Clarivate Analytics and Web of Science. Prof Deo was a Senior School National Dux at Labasa College in Fiji before completing a PhD (Turbulence & Energy) from Adelaide University. He is currently the Leader of UniSQ's Advanced Data Analytics Research Laboratory (57+ researchers and higher degree students) and has supervised over 33 PhD and Master's Degrees with over fifteen students receiving Doctoral Excellence and Masters Excellence Awards or Thesis Distinction Awards. Prof Deo has published over 280 refereed scholarly papers, with 180 papers (89.6%) in Q1 journals in renewable energy, artificial intelligence and machine learning, and co-authored with over 425 scientists worldwide, earning him a Field-Weighted Citation Index of 3.0+. As a leading researcher in renewable energy, artificial intelligence, intelligence, defence, and machine learning, Prof. Deo has established a productive international research program. This includes publishing with 190+ academic and research institutions across five continents (North America, Europe, Africa, Asia, Australia; SciVal, 9.11.2022). He has worked on projects worth $16.2 million. In addition to energy grants from National Projects (Spain), Iberdrola, and the European Union Horizon 20, he received grants from the Department of Defence and Office of National Intelligence in defence and intelligence areas and the Queensland government in AI modelling areas. Furthermore, he received six competitive research fellowships: the Advance Queensland Smithsonian Fellowship, the Young Scientist Exchange Award, the JSPS Fellowship, the Australia-India Strategic Fellowship, and Endeavour Fellowship. He has worked with 25+ industry partners applying AI to provide technical and scientific solutions to industries. Prof Deo is an editor for IEEE Access, Engineering Applications of Artificial Intelligence, and Stochastic Environmental Research and Risk Assessment journals. Prof Deo has won the Outstanding School Researcher Award for 2023/2022, the Excellence in Research Award for 2021, and the Ronel Erwee Memorial Award for Excellence in Postgraduate Research Supervision, along with publication excellence awards, teaching commendations, and Elsevier's Highly Cited Paper Award. He mentors early- and mid-career researchers at UniSQ's Advanced Data Analytics Research Lab within the renewable energy, artificial intelligence, defence and engineering fields.
Employment
| Position | Organisation | From | To |
| --- | --- | --- | --- |
| Professor of Mathematics | University of Southern Queensland | 2010 | 2023 |
Expertise
Prof Deo's expertise is Artificial Intelligence (AI) and Machine Learning (ML) including knowledge and data engineering, deep learning, evolutionary and nature-inspired computational intelligence, optimisation methods, big data analytics in renewable energy and power systems engineering, radio communication systems, Defence and National Intelligence, Internet of Space Things, probabilistic modelling, risk analytics, environmental and engineering domains. Prof Deo has been awarded more than $16.1 million in competitive research grants in cross-disciplinary projects.
Teaching
Undergraduate and Masters Teaching
ENM1500 Introductory Engineering Mathematics - Examiner
MSC8001 Research Project Methodology - Supervisor
MSC8002 Research Project Dissertation - Supervisor
Postgraduate and Higher Degree Teaching:
PhD - Principal & Associate Supervisor
MSCR & MSCN - Principal & Associate Supervisor
Fields of Research
401703. Energy generation, conversion and storage (excl. chemical and electrical)
Supervision Interests
Artificial Intelligence and Machine Learning
Current Supervisions
| Research Title | Supervisor Type | Level of Study | Commenced |
| --- | --- | --- | --- |
| Precipitation and flood forecasting in Ba river catchment by coupling meteorological drivers and climate indices using artificial neural network and extreme gradient boosting | Associate Supervisor | Masters | 2022 |
| Explainable-AI driven deep learning modelling of climate change characteristics | Associate Supervisor | Masters | 2023 |
| Joint Assimilation of RS Satellite derived Leaf area index and soil moisture into DSSAT-CSM for cotton growth monitoring and yield prediction | Associate Supervisor | Doctoral | 2023 |
| Automated language detection model using artificial intelligence techniques with EEG signals | Principal Supervisor | Doctoral | 2023 |
| Epileptic Seizure Prediction with Heart Rate Variability and ECG Datasets | Principal Supervisor | Doctoral | 2022 |
| Deep learning assisted ultrasensitive SiC sensors for physical monitoring | Associate Supervisor | Doctoral | 2022 |
| Automated accurate retinal health screening system | Principal Supervisor | Doctoral | 2022 |
| Gaps in, and limitations of existing climate adaptation policies in Fiji and barriers to further changes | Principal Supervisor | Masters | 2022 |
| Predicting erythemally-effective solar ultraviolet irradiation under attenuation factors and cloudy variation using explainable AI (XAI) and physical modelling method | Principal Supervisor | Doctoral | 2022 |
| Artificial Intelligence Methods for Prediction of Atmospheric Visibility and Air Quality to Support Aviation and Health Sectors | Principal Supervisor | Masters | 2022 |
| Designing Artificial Intelligence-based Probabilistic Methods for Early Flood Warning System for Community Risk Management in Fiji Islands. | Principal Supervisor | Masters | 2022 |
| Impacts of the pandemic on expectations of current and future international students in the Australian tertiary education sector | Associate Supervisor | Masters | 2022 |
| An Efficient Automated Tool to Characterise Asthma using cough sound signals | Principal Supervisor | Doctoral | 2022 |
| AI-enabled enrolment/application process through an integrated platform | Associate Supervisor | Doctoral | 2021 |
| Towards Online Representation Learning for Wireless Communications. | Principal Supervisor | Doctoral | 2021 |
| Hybrid Deep Learning Artificial Intelligent Models for wind speed forecasting in wind-rich regions in Australia | Associate Supervisor | Doctoral | 2020 |
| Solar Ultraviolet Radiation Predictions Under Cloud Cover Effects with Artificial Intelligence Approaches | Principal Supervisor | Doctoral | 2020 |
| Short-term wind speed prediction with artificial intelligence hybrid methods in Fiji | Principal Supervisor | Doctoral | 2020 |
| Sustainable energy futures: Modelling energy demand using global climate models and developing interpretable models with Bayesian approaches | Principal Supervisor | Doctoral | 2020 |
| Machine learning and artificial intelligence: Applications in government support GIS | Associate Supervisor | Doctoral | 2020 |
| Artificial Intelligence informed Simulation of Dissolved Inorganic Nitrogen from Ungauged Catchments to the Great Barrier Reef | Principal Supervisor | Doctoral | 2019 |
| VEGETATION DYNAMICS AND CLIMATE CHANGE IMPACTS IN ZAMBIAS SAVANNAS: ANALYSIS USING GEOSPATIAL TECHNIQUES AND CLIMATE MODELLING APPROACHES | Associate Supervisor | Doctoral | 2019 |
| A regional drought-monitoring framework for climate services in Southeast Asia. | Principal Supervisor | Doctoral | 2019 |
Completed Supervisions
| Research Title | Supervisor Type | Level of Study | Completed |
| --- | --- | --- | --- |
| Evaporation and Soil Moisture Prediction with Artificial Intelligence and Deep Learning Methods | Principal Supervisor | Doctoral | 2023 |
| Coloured Image Classification with Quantum Machine Learning Algorithms for Intelligent Transportation Systems | Associate Supervisor | Doctoral | 2023 |
| Development of Deep Learning Predictive Models for Hydrological Predictions | Principal Supervisor | Doctoral | 2022 |
| NUCLEAR RIBOSOMAL DNA SECONDARY STRUCTURES AND STATISTICAL APPROACH FOR THE PHYLOGENY OF AMPELOMYCES | Associate Supervisor | Doctoral | 2022 |
| ARTIFICIAL INTELLIGENCE AND CLEAN AIR:DEVELOPMENT OF NOVEL ALGORITHMS WITH MACHINE LEARNING AND DEEP LEARNING | Principal Supervisor | Doctoral | 2022 |
| USING MACHINE LEARNING BASED EMULATORS FOR SENSITIVITY ANALYSIS OF PROCESS-DRIVEN BIOPHYSICAL MODELS | Associate Supervisor | Doctoral | 2022 |
| DEVELOPING ARTIFICIAL INTELLIGENCE MODELS FOR CLASSIFICATION OF BRAIN DISORDER DISEASES BASED ON STATISTICAL TECHNIQUES | Associate Supervisor | Doctoral | 2021 |
| Development of flood risk monitoring and forecasting system with artificial intelligence predictive models for community risk management in Fiji | Principal Supervisor | Masters | 2021 |
| An integrated systems model for sustainable agricultural development under changing climate: A case study in a coffee production system in Vietnam | Associate Supervisor | Doctoral | 2021 |
| Enhanced deep learning predictive modelling approaches for pain intensity recognition from facial expression video images | Associate Supervisor | Doctoral | 2020 |
| Development of data intelligent models for electricity demand forecasting: Case studies in the state of Queensland, Australia | Principal Supervisor | Doctoral | 2020 |
| DEVELOPMENT AND EVALUATION OF DATA-DRIVEN MODELSFOR ELECTRICITY DEMAND FORECASTING IN QUEENSLAND,AUSTRALIA | Principal Supervisor | Masters | 2020 |
| Development of deep learning predictive models for short-term solar radiation forecasting: Case study in Vietnam | Principal Supervisor | Masters | 2020 |
| Probabilistic and artificial intelligence modelling of drought and agricultural crop yield in Pakistan | Principal Supervisor | Doctoral | 2019 |
| Forecasting seasonal rainfall with copula modelling approach for agricultural stations in Papua New Guinea | Principal Supervisor | Masters | 2019 |
| Predictive modelling of global solar radiation with artificial intelligence approaches using MODIS satellites and atmospheric reanalysis data for Australia | Principal Supervisor | Doctoral | 2019 |
| An wavelet-coupled artificial neural network-bootstrap model for environmental applications (Solar energy forecasting) | Principal Supervisor | Masters | 2018 |
| Streamflow and soil moisture forecasting with hybrid data intelligent machine learning approaches: Case studies in the Australian Murray-Darling Basin | Principal Supervisor | Doctoral | 2018 |
| Copula-based statistical modelling of synoptic-scale climate indices for quantifying and managing agricultural risks in Australia | Principal Supervisor | Doctoral | 2018 |
| Development of statistical and geospatial-based framework for drought-risk assessment | Principal Supervisor | Doctoral | 2018 |
| Project title | Details | Year |
| --- | --- | --- |
| Office of National Intelligence | $349,962 | 2022 |