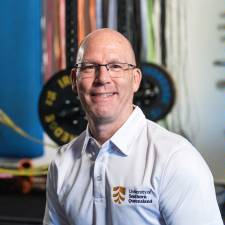 9113

total views of outputs

3100

total downloads of outputs

12

views of outputs this month

4

downloads of outputs this month
Biography
Professor Stephen Bird is Program Director for the Master of Strength and Conditioning at the University of Southern Queensland. A world leading performance scientist, Stephen has led the integration of performance science support for sport's elite in high-performance programs across five counties, attending two Olympic Games and experiencing the ultimate high of Olympic Gold. Having been a member of ESSA since 2002, Stephen was the inaugural recipient of the ESSA Medal in 2006, with his initial research characterising the independent and combined effects of carbohydrate / essential amino acid ingestion during acute and chronic resistance training. These works identified biochemical nutrient-sensing interactions and molecular regulation of muscle growth and reported an alternative mechanism in the regulation of muscle growth, termed the 'anti-catabolic effect', which may favour the conservation of myofibrillar protein. Since then, Stephen's career in academia and sports science has taken him all around the world. He has worked with professional teams in the NRL, NBL, and WNBL, and attended major international sporting events including Commonwealth and Olympic Games, FIBA Asia Cup, Rugby League World Cup, UCI Mountain Bike World Cup and World Championships. In 2021, Stephen was the Senior Performance Advisor for the NSW Swifts (Suncorp Super Netball Champions) and is currently Basketball New Zealand Performance Team Lead for the Paris Olympic cycle, where he continues to research health and performance optimisation in elite female athletes.
Employment
| Position | Organisation | From | To |
| --- | --- | --- | --- |
| Professor (Sport and Exercise Science) | University of Southern Queensland | 2022 | |
| Associate Professor in Sports and Exercise Science | University of Southern Queensland | 2020 | 2022 |
Expertise
Prof Bird's current research examines the many disciplines of "performance science" related to the application of strength and conditioning methods, nutritional supplementation and sports science technology on health and athletic performance.
Current projects:
1) Basketball New Zealand female athlete health
2) Pupillometry: A novel strategy to determine preparedness in professional basketball
3) Sleep in the NBA: Current issues and possible solutions
4) Physical preparation strategies in the NBA: Underpinning factors
Potential graduate students interested in any of the following projects should email or phone:
1) Passive heat maintenance and on-court performance in professional male basketball players
2) Post-activation potentiation on power profiles in professional women basketball players
3) Vitamin D status of Women's National Basketball League players from tropical and non-tropical environment
4) Nutritional supplementation for performance: nutrient timing, multi-nutrient supplementation, immune function
Teaching
SES5102 Sports Nutrition and Supplementation for Health and Performance
SES5106 Injury Prevention and Rehabilitation for Athletes
SES6202 Monitoring Athlete Workload, Health & Performance
SES6205 Mental Health and Wellbeing in Athletes
Fields of Research
321006. Sport and exercise nutrition
420702. Exercise physiology
Professional Membership
| Professional Membership | Year |
| --- | --- |
| Australian Strength and Conditioning Association | |
| National Strength and Conditioning Association | |
| International Universities Strength and Conditioning Association | |
| Exercise and Sports Science Australia | |
| Nutrition Society of Australia | |
Supervision Interests
Passive heat maintenance and on-court performance in professional male basketball players
Post-activation potentiation on power profiles in professional women basketball players
Vitamin D status of Women's National Basketball League players from tropical and non-tropical environment
Nutritional supplementation for performance: nutrient timing, multi-nutrient supplementation, immune function
Current Supervisions
| Research Title | Supervisor Type | Level of Study | Commenced |
| --- | --- | --- | --- |
| Anthropometric and performance characteristics of college football players | Principal Supervisor | Doctoral | 2023 |
| Training and performance of basketball players: Current practice and future options | Associate Supervisor | Doctoral | 2022 |
| Investigating levels of operational preparedness in paramedic personnel through pupillometry, ocular biofeedback measures and autonomic nervous system biomarkers following fatiguing stimuli | Principal Supervisor | Doctoral | 2022 |
| The value of load monitoring for determining positive and negative outcomes in professional football | Associate Supervisor | Doctoral | 2021 |
| . Tendon symptomology and jump force characteristics in basketball players | Principal Supervisor | Doctoral | 2022 |
| Anthropometric and Performance Characteristics of College Football Players. | Principal Supervisor | Doctoral | 2023 |
| Prevalence and associations between patellar tendon symptomology, movement quality, and physical performance characteristics in professional and collegiate court-sport athletes. | Principal Supervisor | Doctoral | 2021 |
| Investigating levels of operational preparedness in paramedic personnel through pupillometry, ocular biofeedback measures and autonomic nervous system biomarkers following fatiguing stimuli. | Principal Supervisor | Doctoral | 2021 |
| Do the Different Phases of the Menstrual Cycle Influence Maximal Strength in Female Team Sport Athletes | Principal Supervisor | Masters | 2020 |
| The role of educational theory in the future development of Paramedicine as a profession | Principal Supervisor | Doctoral | 2018 |
| The Value of load monitoring for determining positive and negative outcomes in professional Football. | Associate Supervisor | Doctoral | 2018 |
Completed Supervisions
| Research Title | Supervisor Type | Level of Study | Completed |
| --- | --- | --- | --- |
| Effectiveness of exercise in Systemic lupus erythematosus | Associate | Doctoral | 2023 |
| An evidence-base for novel fatigue monitoring strategies in professional basketball | Associate | Doctoral | 2023 |
| Exercise for people with Systemic Lupus Erythematosus or Systemic Sclerosis | Associate Supervisor | Doctoral | 2023 |
| Project title | Details | Year |
| --- | --- | --- |
| New Colombo Plan Mobility Award | Student Mobility Award to allow UniSQ Sport and Exercise Science undergraduate students to undertake semester-based work-integrated learning placement. Partnership with the Pacific Nations - Solomon Islands National Institute of Sport. | 2022 |
| New Colombo Plan Mobility Award | Student Mobility Award to allow JCU Sport and Exercise Science undergraduate students to undertake semester-based work-integrated learning placement. Partnership with the Pacific Nations - Papua New Guinea Sport Foundation | 2018 |