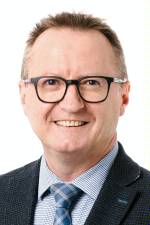 236612

total views of outputs

91030

total downloads of outputs

4

views of outputs this month

21

downloads of outputs this month
Biography
Professor Peter McIlveen PhD has expertise in career development, vocational psychology, and counselling psychology. Peter serves on the editorial boards of several international journals, the Journal of Vocational Behavior, Journal of Career Assessment, The Career Development Quarterly, International Journal for Educational and Vocational Guidance, and the Australian Journal of Career Development. He is a registered psychologist and a member of the Australian Psychological Society, the College of Counselling Psychologists, and a Fellow of the Career Development Association of Australia. Peter's teaching is focused on postgraduate coursework within the Master of Education and supervision of PhD candidates at the University of Southern Queensland.
Employment
| Position | Organisation | From | To |
| --- | --- | --- | --- |
| Professor | University of Southern Queensland | 2009 | 2023 |
Expertise
psychology, applied psychology, vocational psychology, career development, career counselling, career education, rural careers, vocational psychology of agriculture.
Fields of Research
300299. Agriculture, land and farm management not elsewhere classified
390114. Vocational education and training curriculum and pedagogy
390404. Educational counselling
390412. Teacher and student wellbeing
520104. Industrial and organisational psychology (incl. human factors)
520303. Counselling psychology
Professional Membership
| Professional Membership | Year |
| --- | --- |
| Member, Australian Psychological Society | |
| Fellow, Career Development Association of Australia | |
| Fellow, APS College of Counselling Psychologists | |
| International Fellow, National Institute for Career Education and Counselling, UK | |
Current Supervisions
| Research Title | Supervisor Type | Level of Study | Commenced |
| --- | --- | --- | --- |
| Does Emotional Intelligence Enhance Psychological Afterwork Recovery in Paramedics? | Principal Supervisor | Doctoral | 2023 |
| Development and validation of a cognitive mental workload impact scale (CMWIS) for emergency nurses using mixed method approach. | Principal Supervisor | Doctoral | 2023 |
| An investigation into the retention and recruitment of mental health nurses in rural and remote Australia | Principal Supervisor | Doctoral | 2023 |
| Development of a Patient Violence Risk Assessment Instrument for Hospital Emergency Departments | Associate Supervisor | Doctoral | 2022 |
| Exploration of self career-management factors for university students | Principal Supervisor | Doctoral | 2021 |
| The career adaptability of pre-service teachers-what matters when attracting pre-teachers to rural, regional and remote areas? | Associate Supervisor | Doctoral | 2021 |
| An Investigation of the Psychometric Properties of the Career Education and Development Scales | Principal Supervisor | Doctoral | 2020 |
| A Job-Demands Resources Study of School Counsellors' Self-Efficacy for Mental Health Counselling | Principal Supervisor | Doctoral | 2019 |
| An Exploration of the Relations Between Dispositional Traits, Cognitive Flexibility and Job Search Self Efficacy | Associate Supervisor | Masters | 2019 |
| Effect of unemployment stigma on job search behaviours | Principal Supervisor | Doctoral | 2019 |
| Exploring the Therapeutic Alliance and the Experiences of Early-Career Psychologists Practicing CBT | Principal Supervisor | Doctoral | 2019 |
| Exploring the enabling conditions for collective teacher efficacy (CTE) across Toowoomba Catholic Primary Schools | Associate Supervisor | Doctoral | 2018 |
| Three-dimensional High-Performance University Based Structure (HUBS) on the development of NRL Match Officials | Principal Supervisor | Doctoral | 2018 |
| Re-conceptualising assessment for graduate employability within a Work Integrated Learning program | Principal Supervisor | Doctoral | 2017 |
| Improving the outcomes of downsizing and job loss. The role of emotional intelligence in career adaptability | Principal Supervisor | Doctoral | 2016 |
Completed Supervisions
| Research Title | Supervisor Type | Level of Study | Completed |
| --- | --- | --- | --- |
| The relations amongst maladaptive cognitions, defence mechanisms and career and life satisfaction. | Principal Supervisor | Masters | 2023 |
| Teachers¿ Distress Tolerance Experiences Associated with Teaching Dilemmas: A Hermeneutic Phenomenological Exploration | Principal Supervisor | Doctoral | 2023 |
| Phenomenological Lifeworld Research: A Proposed Phenomenological Research Methodology: With an Application to The Lifeworld of New Migrants. | Principal Supervisor | Doctoral | 2022 |
| SOCIAL IDENTITY INFLUENCES IN TWO SMALL AUSTRALIAN RURAL COMMUNITIES | Principal Supervisor | Doctoral | 2022 |
| IDENTIFYING CUMULATIVE HARM IN HELPING PROFESSIONALS: A MEASURE OF IMPACT | Associate Supervisor | Doctoral | 2022 |
| Evaluating the Impact of Visiting Services in Rural and Remote Regions | Associate Supervisor | Masters | 2022 |
| Adolescent social and emotional wellbeing in Abu Dhabi: Socio cultural determinants of mental health and their relationship to help-seeking behaviour In educational settings: A mixed method exploration | Associate Supervisor | Doctoral | 2021 |
| How does professional development align in the construction workplace when associated with integrated management systems? | Associate Supervisor | Doctoral | 2021 |
| TEACHER TURNOVER INTENTION: A SOCIAL COGNITIVE CAREER THEORY PERSPECTIVE | Principal Supervisor | Doctoral | 2021 |
| Transferring the knowledge: Career adaptability and generativity of post-retirement age citizens interested in becoming workplace mentors | Principal Supervisor | Doctoral | 2021 |
| University students' dispositional employability and career adaptive behaviour | Principal Supervisor | Doctoral | 2021 |
| Toward an integrative pedagogy of careers and employability learning in higher education | Principal Supervisor | Doctoral | 2021 |
| How do Chinese international business students develop bridging social capital in Australia to improve their self-perception of their employability? | Principal Supervisor | Masters | 2021 |
| CAREER MOTIVATIONS OF MECHANICAL TRADE STEM WORKERS IN AGRICULTURAL OCCUPATIONS IN REGIONAL AUSTRALIA | Principal Supervisor | Masters | 2020 |
| A mixed-method study of STEM qualified professionals' persistence intentions within the Australian agriculture sector | Principal Supervisor | Masters | 2020 |
| Psychological factors that predict interest in qualifications offered by both recognized universities and unrecognized providers | Principal Supervisor | Doctoral | 2020 |
| Secondary school teachers' self-efficacy for career development teaching and learning | Principal Supervisor | Doctoral | 2020 |
| The career paths of female Emirati graduates in the private sector in Dubai | Principal Supervisor | Doctoral | 2019 |
| Optimizing pre-service teacher classroom management self-efficacy | Principal Supervisor | Doctoral | 2017 |
| Exploring Cotton Farm Workers' Job Satisfaction by Adapting Social Cognitive Career Theory to the Farm Work Context  | Principal Supervisor | Doctoral | 2017 |
| Exploration of active citizenship, entrepreneurial behaviour and calling in career | Principal Supervisor | Doctoral | 2016 |