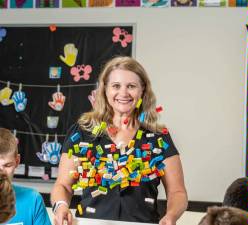 9540

total views of outputs

4176

total downloads of outputs

112

views of outputs this month

11

downloads of outputs this month
Biography
Melissa Fanshawe is an associate professor (mathematics curriculum and pedagogy) in the School of Education at University of Southern Queensland. She has over twenty-five years' experience within schools as a teacher, advisory teacher, Deputy and Principal. In the tertiary space, Melissa is passionate about student success and access to education and online learning. She specialises in preparing pre-service teachers to feel confident in teaching mathematics in primary classrooms. Melissa has won a number of teaching awards including an Australian Awards for University Teaching citation for supporting students learning, an ADCET Accessibility in Action award, an ASCILITE innovation award and a Commonwealth Bank teaching award.
Melissa is also a qualified and experienced teacher for students with vision impairment, gaining her Masters at the Royal Institute for the Deaf and Blind. Her PhD explored participation in learning and preparation for employment for students with blindness and low vision in mainstream secondary schools. She enjoys her volunteer roles as Vision Australia's education ambassador for LEGO braille bricks, co-President of the South Pacific Educators of Vision Impairment and an executive member of the Australian Braille Authority.
Melissa is passionate about sharing information to increase access to education and employment. She believes that with the right knowledge and structures, we can create inclusive environments where all people feel valued and have the opportunity to shine.
Employment
| Position | Organisation | From | To |
| --- | --- | --- | --- |
| Associate Professor | University of Southern Queensland | 2016 | |
Expertise
Mathematics education
Inclusive education
Online learning
Teaching
Mathematics in early primary
Mathematics in middle and upper primary
Preparing for the Profession
Fields of Research
390109. Mathematics and numeracy curriculum and pedagogy
390303. Higher education
390304. Primary education
390411. Special education and disability
Professional Membership
| Professional Membership | Year |
| --- | --- |
| Member - Queensland Association of Mathematics Teachers | |
| Co-President - South Pacific Educators of Vision Impairment | |
| Executive - Australian Braille Authority | |
Current Supervisions
| Research Title | Supervisor Type | Level of Study | Commenced |
| --- | --- | --- | --- |
| The experiences of Australian dyslexic children and their parents: An exploration of allyship and parent-school partnerships | Associate Supervisor | Doctoral | 2021 |
| Project title | Details | Year |
| --- | --- | --- |
| National Accreditation of certificates for senior secondary students who are blind or have low vision | Vision Australia Limited | 2021 |